Want to attend a live event?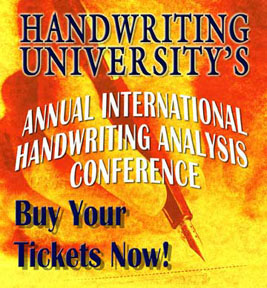 This year's Annual International Handwriting Analysis Conference is sure to be the best yet. We have lots of new guest speakers, new advanced material and of course, a fun and entertaining format.
Join us in Dallas, Texas,
June 23rd - June 25th 2006
Save $50 if you purchase your tickets now.
More info here:
http://handwritingu.url123.com/conference2006

"This seminar has changed my life. It is the most efficient and effective method for personal development and for improving the quality of one's relationships."
—Kim Radcliffe, Attorney and Mediator, Orlando, FL
"If you're at the point where you want to change your life, this course is a must! You'll learn more about yourself and other people than you ever thought possible, and you'll make money in the process."
—Jennifer Jeffcoat, Sales Rep, Orlando, Fl
"This course has been amazing! With a background in clinical research, my first reaction was to search for the evidence that this science is accurate. Upon investigation, biologically, handwriting analysis' validity makes perfect sense. Ultimately, my own personal improvement was all the proof I needed to change from skeptic to believer!"
— Deborah Mraz, Clinical Research Specialist, Wilmington, NC
"I have already seen and experienced wonderful changes through grapho-therapy. People at work now seek me out as an expert in my field, and I have had many recent offers to manage important projects. All this happened in about a month from first raising my t-bar!"
—Diane McCafferty Engineer, Sandy Hook, CT
Visit here for our latest times, dates, and locations.