| | |
| --- | --- |
| | You can also learn the science of Handwriting Analysis through the fun of Handwriting University's Home Study Course. You will become a Certified Expert and learn how to discover hidden personality secrets in anyone's penmanship. |
George W. Bush's Handwriting Sample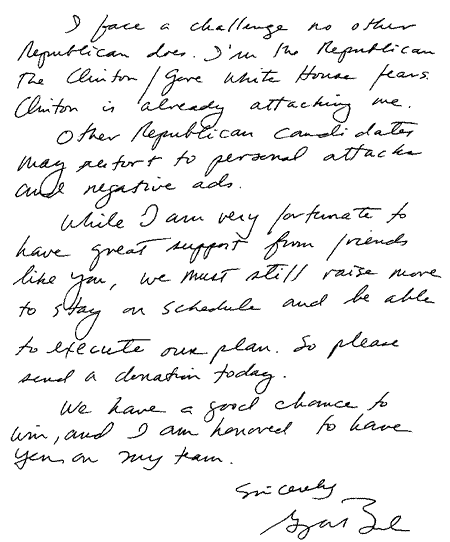 Click here to hear Bart Baggett's analyis (Director or Handwriting University.com)
Notes:
Emotionally expressive & empathetic (hard right hand slant)
Great Self-esteem & ambition(t-bars crossed at the very top of the stem)
Highly Intelligent & mature (sharp points on the m's, connected letters, and good rythym)
Enthusiasm (Long t-bar)
Generosity (large spaces between words)
Blunt, very honest, and even a bit talkative. (No loop on either side of the o and open at top.)
Click here to read Certified Handwriting Expert Katie Darden's Analysis (more in depth)
Remember that you can learn all this and more when you enroll into our Handwriting University Home Study Course. Special Discounts available now.
http://www.myhandwriting.com/learn
Five Free Special Report available here: