Taiwan Extension of Handwriting University.com
Want to study in Chinese?
Director: Ms Chou Wen-Chuan
Telephone: 886-2-28730194
Fax no.: 886-2-28743569
Address: 2F., No.333-2, Sec.2, Shih-Pai Rd., 112 Taipei, Taiwan
E-mail address: achou0610@yahoo.com.tw
website: www.innoexcel.com.tw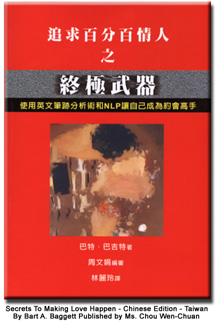 She has completed the translation and publication of the home study course,
The Grapho-Deck, and other key tools for certification as a handwriting analyst.


Bart Baggett's first book, the Secrets to Making Love Happen
Is now available in paperback, in Chinese.
See cover here:
See first page here:
The Grapho-Deck is also
available in Chinese.

Most common question: Can I analyze Chinese writing?


No. The book is entirely written in Chinese, however, all
the graphics and handwriting samples are in English /
Latin bases script. (The handwriting samples are the same
as in the Western version) The students in Taiwan can read and
write English, but they learn better in their native language.
Other Fun Links:
Analyze your own handwriting Now - Self Test

New--> Read Past Issues of Weekly Newsletter with Celebrity Handwriting Samples
Get Certified as a Handwriting Expert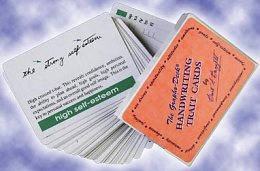 | Enter Handwriting University.com |
Welcome to the world's only Virtual Handwriting Analysis Training Center. WE have certified students in 17 countries worldwide and you can be next. Please peruse our website to start your journey of self discovery using the science of handwriting analysis.
© Handwriting University. All Rights Reserved.