Special Community Live Classes for 301 Certification Students/Mentors/Graduates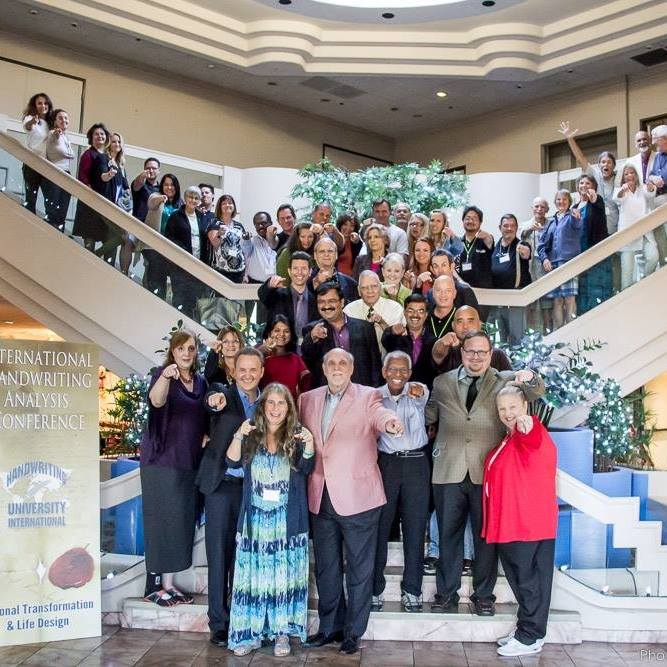 Hi,
If you are seeing this page that means you are enrolled in Handwriting University's International Level 301 course or have already graduated from Handwriting University. CONGRATULATIONS, you are in the right spot to connect and continue your passion for handwriting analysis and psychology.
Now, imagine you being part of a family which is spread worldwide, imagine meeting everyone in the community globally who share the same passion sharing their vision, mission, journey, and experiences. Imagine spending a few hours a month with professionals such as Forensic Document Examiners involved in criminal investigations, Counselors & hypnotherapists, Neuroscientists using it for research purposes, Teachers training kids to build a strong character in children, or a $10000 per lecture professional speaker using handwriting analysis for leadership and team building.
YES! These are HU graduates in our worldwide community and they are also invited to attend and share their wisdom. You can ask any questions about the content of the course or their own career experience.
Our mission is to eventually help you reach out and connect with everyone in our worldwide community who is Transforming Lives through Handwriting.
We aim to achieve this vision through educational, engaging content and materials, and by embracing the greatness and specialness in each one of you.
Every month, we are going to discuss the detailed course material and support everyone in the community with the challenges they are facing (if any) in terms of the material, topic, a particular trait or any new trait discovered, share our learning experiences and challenges – Start thoughtful conversations – Ask questions – Inspire debates – Grow together and build a strong family with passionate happy people globally who have made success through the science of handwriting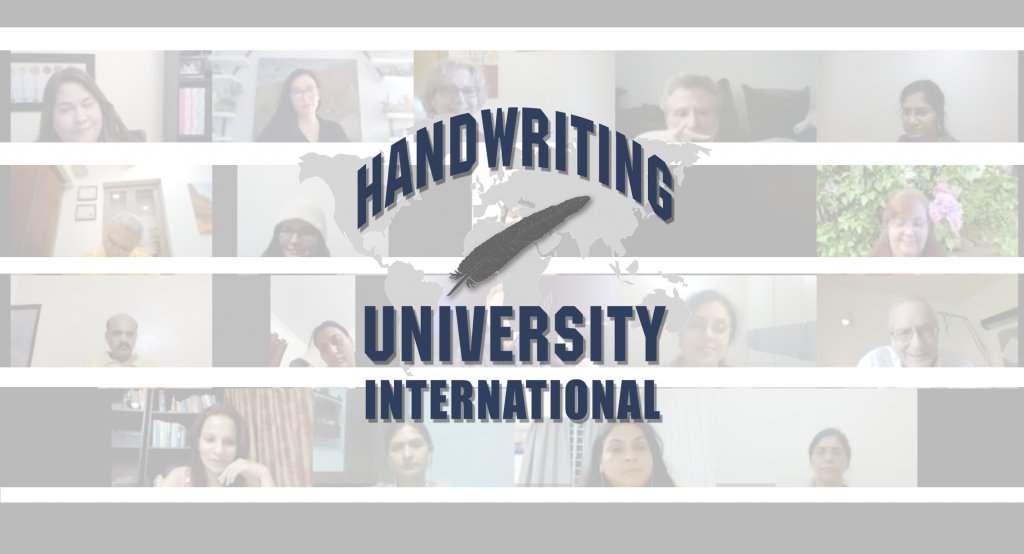 Also, in this family we want to give attention to EVERY Member, so all graduates will have the opportunity be a "featured guest" and give a 10-15 lecture on their take on a particular trait or topic. All "featured guests" and the lecture slides will be approved by our faculty. Just submit your request to support@handwritinguniversity.com
SOUNDS AMAZING, RIGHT !
Consider it as a gift from the Entire Handwriting University Faculty
These new live classes are open all everyone who has ever been enrolled into the Certification Level 301 Handwriting Analysis Course, Graduates, and Faculty members. Topics such as: relationships and compatibility, handwriting analysis trait stacking, criminal handwriting, and much more.
This is an international community where you join in and analyze handwriting samples together and get your questions answered whether you are consulting with a client or finishing your first tests inside the 301 level course. Best of all….The first three months are free during 2019.
If you are not sure you are enrolled, just go to the new 2019 online 301 Level Certification Course and see if you can log in. If you can log in, you are obviously enrolled in the correct course and these classes will refer to images, videos, and handouts found online. Go here and verify you have access to the latest course. https://empressepublishing.teachable.com/courses/enrolled/87135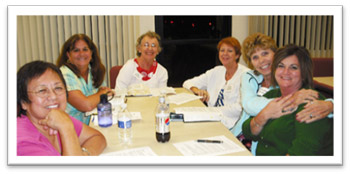 The links below are for Enrolled Handwriting University Students and Graduates Only. If you do not own the 301 course from Handwriting University, please do not register or attend these classes. You are welcome to join whether you have a private mentor or you are doing the course on your own. For best results, please join using a camera and a microphone.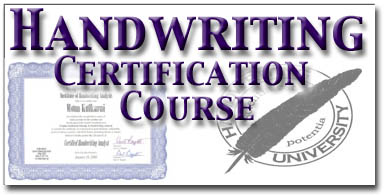 ATTENTION
If you want to attend a live class, you must register on both the accuity and the zoom page, just follow the links here to get the zoom link.
Register here:
Step 1: Choose your time zone
Step 2: Fill out the information
Step 3: On the thank you page, you will be asked to enter your info again in the zoom video platform, please take a minute to register on both sites, so you get the link emailed to you.
Paste
video here.
Register here: https://bartbaggett.as.me/schedule.php?appointmentType=9367167
Host

Date

Register or Watch Replay

Bart Baggett & Pooja Saran
March 21, 2019

Vanity, Stinger, M humps,
and a few great stories.

1:10 minutes.

Watch Replay Now.

Click on the arrows above to enlarge to full screen.

Bart Baggett & Pooja Saran
April 18, 2019

Click below to watch the replay.

Bart Baggett
May 16, 2019

Guest Professional Speaker and Canada's #1 Handwriting Expert Jamie Cohen talks about his journey to a six-figure speaking career

Part 1 of 2 here.

Part 2 of 2 here.

Bart Baggett
June 20th 2019

Watch Replay Now. 88 Minutes

June Community Handwriting Analysis Class from Bart Baggett on Vimeo.

00:15:59 Meeting Host: https://go.internationalschool.us

00:40:24 Sophia DuJardot: Here is the link to the form I use to collect information quickly and get feedback.

https://docs.google.com/document/d/1KPw5A6fuWzIbypTdx9D5fCKjk5rlad4GStEmaG9DtEE/edit?usp=sharing

00:42:09 Pooja Saran: Thanks a ton Sophia !

00:44:32 Richa Aggarwal: how to expalin people that they lives in the moment?

00:55:49 Bart Baggett (Host): https://empressepublishing.teachable.com/courses/87135/lectures/2126527

00:56:06 Bart Baggett (Host): Remember to go here and watch the forensics video: https://go.internationalschool.us

01:16:29 Bart Baggett (Host): https://empressepublishing.teachable.com/p/kids-handwriting-analysis-for-teachers-and-parents

Bart Baggett
July 25th, 2019

8am PST/ 8:30 IST

Watch 70-minute replay now.

Lot's of comments and announcements from all corners of the world.

Bart Baggett
August 15th, 2019
8am PST/ 8:30 IST
Watch Video Replay 1:15 minutes
Bart Baggett
September 19th, 2019

8am PST/ 8:30 IST

Replay now available. What does DRUNK handwriting look like?
Bart Baggett
October 17th, 2019

8am PST/ 8:30 IST

Does Grapho-Therapy Really Work?

Watch Replay Now
November 14th, 2019

Hosted by Bart Baggett

63 minutes

December 19th, 2019

8am PST/ 9:30 IST

Replay is above. Click on the lower right to expand to full screen

January 23rd, 2020

Replay Available

Replay here:

February 20th, 2020

8am PST/ 9:30 IST

The first 20 minutes discussed phrases you can use to get people to beg you to analyze their handwriting. You will laugh out loud.

Replay online. Very Funny Class.

March 18 th, 2020

8am PST/ 9:30 IST

Register here: https://bartbaggett.as.me/schedule.php?appointmentType=9367167
Want More LIVE Classes?
We have monthly "Authorized Mentor" classes once a month
that teach marketing and business. Learn more here: https://handwritinguniversity.com/authorizedtrainerprogram/index.html

We have a very interesting in-depth tutorial meeting called the Silver Membership Live class on the first Monday of each month.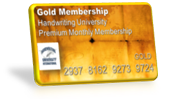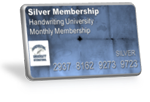 Only active Handwriting University members with Gold or Silver memberships are able to attend these Silver level classes. The Silver classes are open to any student in any course… you don't have to own the Certification Level Course to attend.
Each month, members are also able to access to the new bundle of PDF, audio, and video bonus training each month inside the Member's Only section of this website Any questions about your membership status, call our customer support center or submit a customer support ticket via the help menu.