Welcome To Handwriting University
If you are currently not logged in, please log-in using
the form on the right side of the page.
If you do not have a Handwriting University account,
Click here to create a Free Basic or Paid Silver Account
---
News for 2017

---
Table of Contents
7 Day Step-By-Step Basic Graphology Training

This basic level 100 7 part course walks you through the basic process for analyzing handwriting in written, audio, and video formats.

Course Access Page

Once you have purchased any Elective Course or Level 101, 201, 301 Certification Level Course, the comprehensive online training can be accessed here. 2017 teachable platform login here: courses.handwritinguniversity.com

Silver Member's Only Area: Special Program of the Month

Each month, members receive access to a special member's only video or audio interview made exclusively to members, for one month only. Visit today, because there are no archives of this exclusive content.

Articles and Special Reports

Read new and archived articles, newsletters, and special reports made available exclusively to monthly members.

Live Silver Seminars

Get your personal questions answered by a Handwriting University Faculty Member during these live call-in SILVER MEMBER monthly classes. You can listen in live via telephone or the internet, or download the MP3 and listen later.

Catalog of All Programs

Upgrade here to any "level" access to programs on this website. Here you can have instant access to all courses on this website from Handwriting University's membership site.

Frequently Asked Handwriting Analysis Questions:

Here is a full list of frequently asked questions related to handwriting analysis.

Need Support?

We have a Frequently Asked Questions page and if that doesn't help you out, our support team is ready to answer any of your membership or billing questions.
------------ Special Newsletter Reader Offer ------------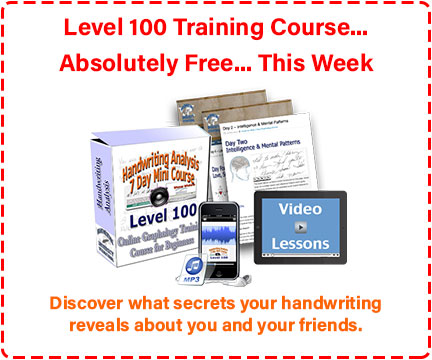 Visit the discount page now.