Are you ready to move to the next level of ADVANCED handwriting analysis?
Inside our 501 mastery course, we explore the concept of trait stacking.
In this video Bart talks about how narrow mindedness and a high intelligence can cause people to be extra sensitive to criticism… regardless of the loop in the letter d. This is an advanced seminar clip (so the make sure you understand the basic primary trait of sensitive to Criticism before you watch this video.
Here is the primary trait, which you probably already know. But, did you know people can be SUPER sensitive even if they don't have a loop in their d. The secret is trait stacking and it is explained inside our new 501 mastery course.
Notice: We are about to open up enrollments into the 501 Mastery LIVE video classes this month.
Watch your email for enrollment options
Also, once you learn how to STACK TRAIT, you can see that even if a person does not have the loop in the stem, the "combination" of these other two traits can "stack" to behave like sensitive to criticism. The primary strokes/ traits vanity and with-drawl can be a lethal combination and discussed in this video.
This might explain those few people who acted like big babies… even though their
lower looped d stem seemed normal. If you want to learn how to stack traits, just enroll into the 501 Mastery Course from Handwriting University. and watch your email for a big sale coming this week and live video training classes.
Here is a big sale coming this weekend… Watch your email for details or call our office before the deadline.
Live classes and 75% off sale coming in the next few days.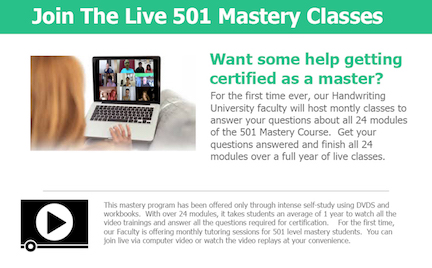 Click here to save money on Handwriting University's Certification Course
Want to learn more? See the Handwriting Courses
that are on SALE this month at a deep discount.

Introducing the most expensive & advanced handwriting analysis certification course ever published in the United States…

Finally, You can go beyond all other handwriting courses and become a "Master" in Advanced Handwriting Analysis

Introducing the brand-new

2013 MASTERY CERTIFICATION COURSE

Now Accepting ENROLLMENTS for this Program.

Become certified as a Master Level Handwriting Analysts

Discover never-before-taught advanced analysis & Grapho-therapy techniques now available through this new Advanced Course.

ITEM: Level 501 Mastery Level Advanced Certification

SEE ORDER PAGE NOW FOR CURRENT PRICING

STUDENT TESTIMONIALS:

I just attended the advanced conference. It was great. We learned so many things beyond explanation All of the information we were given…loved it. Met great people full of good will toward one another. Was just a great conference. Enjoyed it. Handwriting is wonderful. Would recommend anyone to become a handwriting analyst.

– Brenda Petty Duncan, Oklahoma

Want to know more?

Here is an exerpt of the table of contents of just two of the 5 Coil Bound Workbooks that come with the program:

Study Materials Included:

24 Videos (on11 DVDS)

1 Advanced Trait Dictionary

2 Course Packs and 2 Handout Books

5 Books Total / One Video Set

Part One: "Advanced Mastery" Video Workshop & Manual Videos #1 – #14

1 Advanced Mastery Manual

Part Two: "Advanced Course" Conference Videos & Manual Videos #15- #26

24 Videos Included spanning over 8 years of live seminars and content.

Part Three: The "Course Pack" (Contains Questions, Checklists, and Proof of Completion Workbook)

Handwriting University's Mastery Level Advanced Course Packet (2 coil bound workbooks)

Course Pack Table of Contents (Part 1 of 2)

Section One: Student Orientation

How to Study This Course

Part One – "Handwriting Analysis Advanced Mastery Workshop" Video Seminar & Event Manual

Section Two: Certification Course Review

Advanced Mastery Coursework Checklist

Section Three: Advanced Primary Traits

Section Four: Two Piece Trait Stacking X + Y = Z

Section Five: Handwriting Analysis of Dr. Ruehl

Section Six: How to Give a Great Verbal Analysis

Section Seven: Key Elements to Creating a $650

Written Personality Profile /Report Section Eight: 11 Big Fears In Grapho-Therapy

Section Nine: Grapho-Therapy for Coaches, Counselors, and Therapists

Section Ten: Advanced Trait Stroke Evaluation with Inhibiting Traits

Section Eleven: Analyzing Block Printing

Section Twelve: Handwriting Analysis of Jerri Newsome

Section Thirteen: Ethics in Handwriting Analysis

Section Fourteen: Italian Graphology

Section Fifteen: Introduction to Advanced Traits by Bart Baggett

Section Sixteen: Advanced Grapho-Deck Traits

Section Seventeen: Advanced Traits Part 1

Section Eighteen: Advanced Traits Part 2

Section Nineteen: Advanced Trait Stacking Part 3: Using the Dictionary

Section Twenty: Neurological Diseases & Illness in Handwriting:

Dr. Alexander Section Twenty-One: Health in Handwriting: T. Deberry

Section Twenty-Two: Baby Gender Predictions Section Twenty-Three: Spotting Trauma

Section Twenty-Four: Profile of a Corporate Thief

Section Twenty-Five: Handwriting for Counselors and Hypnotists

Section Twenty-Six Understanding Yourself Through N.L.P (Neuro-Linguistic Programming)

Section Twenty Seven

Part Three: Completing Your Course
###