Bart Baggett will appear on CNN's Nancy Grace June 3, 2013 to discuss the alledged forgery of Brett Seacat's dead wife's suicide note.  Tune in on CNN to view the discussion.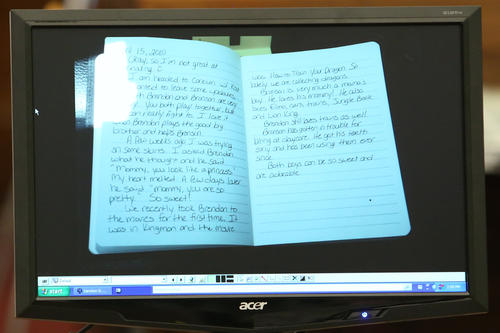 (Travis Morisse/The Hutchinson News) The suicide note found in a journal inside Vashti Seacat's car in May 2011 was presented during Brett Seacat's trial Friday.
Suicide note problematic, examiner says
Item attributed to victim 'looks drawn,' KBI worker testifies in Seacat murder trial.
By Darcy Gray – The Hutchinson News –
KINGMAN – Jurors stared intently, some with hands covering their mouths, as a forensic document examiner compared the suicide note found in Vashti Seacat's car with samples of her handwriting and pointed out letters he said were simulated or traced.
"After examining and re-examining, it all came back to the same scenario," said Dennis McPhail, a forensic document examiner with the Kansas Bureau of Investigation. "This was either a tracing or a simulation."
The testimony Friday came during the second week of trial for former Kansas police instructor Brett T. Seacat, 37, who is charged with first-degree murder in the death of his wife, Vashti. He is accused of fatally shooting her while she was sleeping sometime before 4 a.m. on April 30, 2011, and setting fire to their Kingman home to cover up the crime. He escaped the blaze with the couple's two sons, then ages 2 and 4, and also is charged with aggravated arson and two counts of aggravated endangering a child.
Seacat's attorneys contend, however, that a depressed Vashti Seacat set fire to the home before committing suicide.
Prosecutors and defense attorneys sparred over the suicide note in their opening statements last week, indicating they would bring in experts who would offer opposing opinions on whether the note was forged. The note was found in Vashti Seacat's silver Vo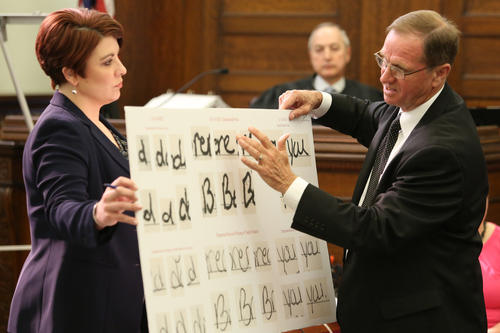 lkswagen Passat, parked outside their home at 255 E. Ave. B in Kingman, a couple of days after her death, KBI agent Chris Turner told jurors Friday.
Due to the dust and debris in the car, he said, it looked like someone drove it down a dirt road with the windows down. There was no dust covering the journal like the rest of the vehicle, according to Turner.
Kingman County jurors have seen a videotaped interview in which Seacat admitted to KBI agents that he practiced forging documents in his office at the Kansas Law Enforcement Training Center the day before his wife's death, but he maintained he did not forge the suicide note.
His former co-workers testified Thursday that he asked to use an overhead projector the day before his wife's death, and he was inside his office with the lights out with legal paperwork and a card from Vashti on his desk.
McPhail testified Friday he examined numerous handwriting samples from both Brett and Vashti Seacat, and said Vashti had good penmanship that was "very consistent." He cited several concerns with the suicide note: numerous "tremors" in the writing he said were "indicative of fraud"; a lot of smearing on the note; multidirectional writing "going this way and that way"; and specific letters drawn differently than the examples he'd seen of Vashti's handwriting.
"The lowercase 'd' is retraced," McPhail said when questioned by Assistant Kansas Attorney General Amy Hanley, and he pointed out several letters for jurors. "Someone retraced it.
"The whole thing looks drawn."
***
KBI forensic scientists testified Friday that no blood was found on Brett Seacat's pants; Seacat was only wearing his black work pants at the time of the fire and had no shoes or socks on.
But KBI forensic scientist Harold "Chris" Riddle told the jury he found gasoline on Seacat's pants.
Investigators previously testified that a trail of gasoline was found on the second story of the Seacats' home, including the master bedroom, where Vashti's body was found covered by a charred blanket, with a .44-magnum Ruger Redhawk under her torso.
Defense attorney John Val Wachtel questioned Riddle at length about the possibility Seacat's pants – initially collected in a brown paper sack before being placed in an arson evidence bag two hours later – were contaminated.
Riddle acknowledged he wrote that the evidence was "not sealed properly for fire debris analysis!" because the bag had been opened and resealed.
When questioned by Jessica Domme, assistant Kansas attorney general, Riddle testified that contamination was possible but not probable, if the pants were kept in a car for a couple of hours before being placed in the proper evidence bag as investigators previously testified.
He testified he could not determine how much gasoline was on Seacat's pants or how the gasoline got there. Riddle told Wachtel that if there was "cross-contamination," it would most likely be from fumes, but it was more probable that there would be a loss of the sample if any contamination occurred.
***
Joy Trotnic testified Friday she was good friends with her co-worker, Vashti Seacat, and after she learned about her death, Trotnic quickly recalled an alarming comment Vashti had made about her husband just a couple of weeks before her death.
"She said, 'Do you think Brett would burn the house down with me in it?' " Trotnic said, adding that she was "taken aback" by her friend's odd question. "I said, 'What?! … Not with the kids at home.' "
Trotnic said she was busy at work at the time, and Vashti said "OK" and left her office.
Trotnic, a benefits director at Cox Communications in Wichita, testified she knew Vashti had filed for divorce about two weeks before her death, and that Brett was served with divorce papers in the days before his wife's death. But Trotnic described Vashti as happy and said she didn't think she was depressed. Vashti was in good spirits when they went out to lunch the day before she died.
"She had a lot of friends," Trotnic said of Vashti, who was a human resources director. "Everyone she worked with really liked her."
Jurors also heard Friday from Mandy Kupper, who worked at Treehouse Learning Center in Wichita, where the Seacat boys went to day care. According to Kupper, Brett Seacat called the morning of May 2, 2011, and said he was sure she probably saw what happened on TV, and he wanted to come in and "tell you what really happened before you start hearing rumors." Kupper said that when Seacat arrived, he wanted to meet with her and the boys' two teachers, as well.
Seacat then explained Vashti had died, "and there was a fire and that she had killed herself," Kupper testified. Seacat detailed for the three day-care workers how he and his wife had been going to couples counseling, that he'd just been served with divorce papers, and that he was supposed to be out of their house but Vashti let him stay.
"He said he'd told Vashti that she wasn't going to take away his boys, and if she did, he'd make sure she'd never see them again," Kupper recalled.
Seacat also told them he'd been asleep on the couch downstairs when Vashti called him around 3 a.m. and told him to "come get the boys before something happens," Kupper said. Seacat said he started going upstairs and heard a loud bang, so he went into Vashti's bedroom, according to Kupper. She said Seacat told them, "'to spare you the gory details, there was blood everywhere, and she was lying on the bed.'"
According to Kupper, Seacat would get "choked up" talking about his sons but showed no emotion when talking about Vashti, and he never said her name, only referring to her as "she" or "her." While Seacat told them his wife was "deeply depressed," Kupper said, she thought his statement did not match what she saw of Vashti the day before her death "or ever."
She said Seacat also mentioned that "they wouldn't receive any of the life insurance or home insurance since (Vashti) had committed suicide and set the house on fire."
References
http://www.kwch.com/kwch-jab-photos-brett-seacat-trial-20130521,0,5227987.photogallery
http://www.kwch.com/news/kwch-jab-brett-seacat-murder-trial-continues-in-kingman-20130530,0,1630170.story
http://www.kansas.com/2013/05/30/2825658/investigator-says-he-found-handwritten.html
http://www.kwch.com/news/kwch-jab-brett-seacat-murder-trial-continues-in-kingman-20130530,0,1630170.story
background on the case:
http://www.hlntv.com/video/2013/06/03/brett-seacat-vashti-burn-house-down-me-it?hpt=hln10_2