Handwriting University Level 100 Basic Course Area
This is Handwriting University International's online training course for beginning level students of graphology. This simple 7-part course gives you a broad introduction to the science, a few specific strokes and personality traits, plus a few bonus videos and audio training lessons.
NOTICE. You are on the 2016 site and this entire course has been updated and is now published on our new 2020 interactive platform. You will need a different user name and password to access the new platform… but we strongly suggest you Create an account on the teachable platform HERE for FREE and enjoy the new improved latest interactive content of this course. http://courses.handwritinguniversity.com/
Register for this course on the new platform here; http://courses.handwritinguniversity.com/p/beginner-s-course-on-personality-through-handwriting-analysis-level-100
WAIT! This course is now published with ALL-NEW VIDEOS and an interactive learning website which is soooo much better than the page you are looking at right now. But, you need to click here and register at our "course learning" site to access the newer and better level 100 course. Go there now, you will be glad you did. (Eventually, we will remove the level 100 content from this member area, since the new site is soo much more enjoyable.)
IF YOU ENDING UP ON THIS PAGE THROUGH ORGANIC SEARCH AND HAVE NOT REGISTERED WITH YOUR EMAIL, PLEASE REGISTER TO ACCESS THE CONTENT BELOW. (100% Free This month). Register now.

Members Info: You are logged in as:
Email:
Basic Introductory Course Audio
Click here, to listen to this short audio clip in the quick start guide explains what you
will find in the introductory Handwriting Analysis Level 100 course.
Once you listen to the quick-start guide, start with
Day 1: Emotions in Handwriting Through Slant
Day 2: How to Spot Intelligence and Thinking Patterns
Day 3: Self Confidence, Fears, and the Letter T
Day 4: Sexuality in Handwriting (Love and Relationships)
Day 5: Blueprint of a Whiner: 5 Annoying Personality Traits: Irritating Personality Traits
Day 6: The Art of the Live Verbal Analysis using Metaphors
Day 7: Change Your Handwriting, Change Your Life: Grapho-Therapy
Day 8: BONUS DAY – Speed Learning Video
Finished with your Level 100 Course? Upgrade here using this link and get started with the next level of scientific handwriting analysis. Upgrade to Level 101 now for as low as $297
Not ready to upgrade, read about all the $160 worth of goodies inside the 101 course,
then use the above link to upgrade from this page and save.

------------ Special Newsletter Reader Offer ------------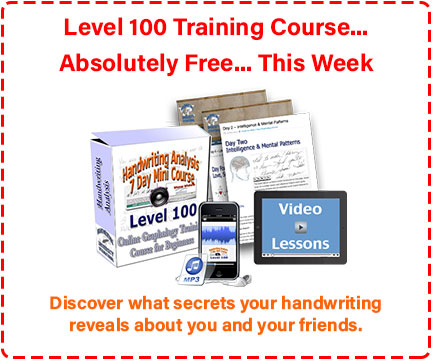 Visit the discount page now.