Learn the process of analyzing Block Printing when no cursive is available. This never-before-published video is in this new section (about 28 minutes running time ) of the new International Level Handwriting Analysis / Graphology Certification course.
This short lecture explains a hard-to-grasp concept of how block printing is possible to analyze and shows examples of such. The video is part of the brand new online course. Completely revised and updated for international students. The speaker is Handwriting University founder Bart Baggett. If you want to see the other 38 videos inside this course, just visit the website and get enrolled for instant access to the entire course. https://handwritinguniversity.com/learn/hwcertco.html
Why does it mean if people only block print?
Block printing
Why do people block print?
Why do these people don't write cursive
Is it a masculine or feminine issue?
What if people forgot how to write longhand/cursive.
Purchase the new International Certification Level Handwriting Analysis Course (small upgrade fee for past students ) or enroll in the 501 Mastery for those that want Master's Level education.
Certification Course. Enroll Now.
https://myhandwriting.com/learn/hwcertco.html

https://handwritinguniversity.com/products/mastery/
------------ Special Newsletter Reader Offer ------------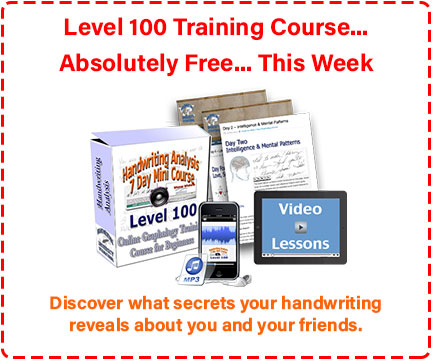 Visit the discount page now.
Call our office with questions about the program and verify it is in stock. 1- 800 398 2278
https://handwritinguniversity.com/members/help-menu/about/ <– Call our office here. USA and India support team standing by.
If you have any questions regarding products, pricing or just need help with your purchase:
Call our International Headquarters with any questions about products here:
Course Enrollment & Sales: +1-310-684-3489 Ext. 2

Dave 9am-11am California Time, Brianna 1 pm-7pm California Time.
+91 974 501 1322 for Pooja in India, Standard Time. INDIA (speaks Hindi, too)

Or schedule an appointment right now using our online scheduling system: https://calendly.com/handwritinguniversity/
Chat with us now on Facebook. m.me/handwritinguniversity