Did you see CNN.com's cover page today?  CNN featured a summary
of 8 reporter's handwriting analysis and their comments.  The article
is very positive.  However, some of the "reader comments" are full of
hecklers and skeptics that obviously never met a professional handwriting
expert.  Leave a positive comment, after you read the story and help
boost up our profession.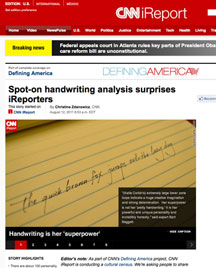 Thanks for supporting handwriting analysis and reading our newsletter.
Handwriting University has certified experts around the globe and
continue to change lives through this science and convert non-believers
into evangelists.   Tell your friend about this article.
Sincerely,
Bart Baggett
Handwriting Univesity.com
P.S.  We are having a special 4 part tele-class to help you get certified.  If you
want some personal attention, check out this upcoming tele-class which I'll
be hosting.
http://www.handwritinguniversity.com/301gold/
How to become a Premium Member of this site.
http://handwritinguniversity.com/members/instant-membership-access/
http://www.myhandwriting.com/discounts.html
------------ Special Newsletter Reader Offer ------------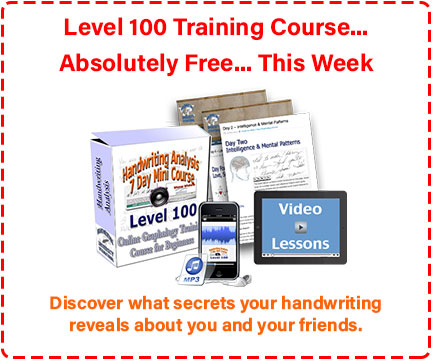 Visit the discount page now.