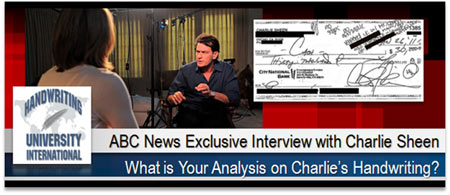 It is rare to see a celebrity lash out and speak his mind the way
Charlie Sheen has been doing the past few days. In fact, if you
haven't seen the video, you must watch it. It reminds me of a
very angry spoiled child lashing out at his parents for not
bailing him out of jail for the fourth time.
Now, I don't know him personally, so these comments are completely
based on the "handwriting" seen on the check and the interviews
I've watched. Your comments are most welcome.
All you have to do is "REGISTER" and "LOGIN" to comment… all free.
What do you think?
Now, I saw a psychiatrist trying to diagnose Charlie from this interview as
possibly being schizophrenic or bi-polar. What a bunch of garbage.
Is it possible that maybe years of drug use has something to do with any of his behavior?
Most psychiatrist are guessing at best when they actually have a patient to run tests on… oh.
There are no test for those diseases… those are just a collection of symptoms which seem like a
disease… and might or might not respond to intense medication.
Charlie's handwriting is fast, fluid, bold, and utterly confident.
Would you agree to a big of arrogance and prideful? Bold? Smart?
(You could argue how smart it was to call out his boss on national
TV and demand a raise to $3million an episode.)
I think the people who are hurt the most by this PR nightmare is the team
of writers, actors, and producers who work 18 hour days building a hit TV show…
who's livelihood depends on certain actors to show up and behave like a star…
not a spoiled child that got his toy taken away. The only disease Charlie Sheen
has is "Charlie" (as he stated in a recent interview)… a lot of narcissism, the
confidence to live by his own odd rules and 20 years of no-consequence
life-style choices. If you get away with it, and keep getting away with it…
is it really a surprise he his deeply offended when someone finally says,
"Sorry Charlie, no more Tuna!"
------------ Special Newsletter Reader Offer ------------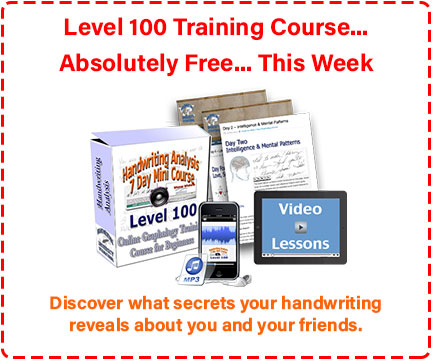 Visit the discount page now.

Exclusive: Charlie Sheen Says He's 'Not Bipolar but 'Bi-Winning'

The actor denies having psychological problems in this exclusive interview.
View video here. Make comments Below.
VIEW VIDEO HERE:
http://www.youtube.com/watch?v=h5aSa4tmVNM
Watch for the phrase " Droopy eyed one armed children." Wow… what a trip.
And, the reporter says he did pass a drug test after the interview and he wasn't
on any drugs (Imagine how blunt he would be on drugs).
---
Handwriting University's Gold Membership+ Bonus Disc


All General Member Access and the member's only BEST of Bonus Disc MP3 10+Hour Bonus Disc shipped to your door, plus…

Bonus Level 100 Instant Access ($17 value)
3 Months Past MP3 audio archive member classes
Member's Only MP3 of the month
Member Video of the month
Monthly Member's only discounts on special products
Member's Only Live Monthly Tele-classes
Level 101, 201, 301, and 401 online access (if you already own the hard copy course.)
Plus the Gold Bonus DVD Disc shipped to your door packed with over 10 hours of the "Handwriting University's Best of Bart Baggett" MP3 Lectures, tele-classes, PDF files, transcripts, even handwriting video interviews. This DVD disc is packed with over $170 worth of content, not sold separately. Click here here to see the Table of Contents of the Gold Member Bonus Disc. (Topics include: relationships, handwriting, grapho-therapy, politics, thinking patterns and intelligence, and success secrets.)
---