When the Wall Street Journal needed to find three handwriting experts from across America to analyze the Mayoral candidates handwriting… naturally, when they selected there three experts, they chose three people all trained by Handwriting University.
Do you see the same personality traits in these signatures?  How do your skills stack up?  What if you were the one they called for this article?  Leave your comments below.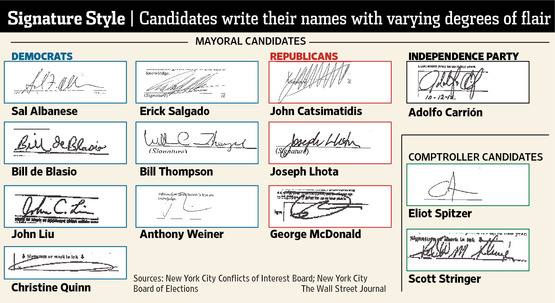 By Michael Howard Saul
New York City mayoral hopeful John Catsimatidis's signature – found on a financial disclosure report released by the Conflicts of Interest Board on Thursday – looks like a series of undulating waves with barely any resemblance to a single letter in the English alphabet.
With New Yorkers preparing to elect a new mayor for the first time in 12 years, The Wall Street Journal contacted three handwriting experts to analyze the mayoral candidates' signatures in hopes of gleaning some insight into their personalities. Each of the analysts, located across the country, reviewed the signatures independent of each other, and, for the most, part offered strikingly similar observations.
"John Catsimatidis's signature is basically illegible which indicates a sense of arrogance and speed of thinking," said Bart Baggett, a handwriting expert based in Los Angeles. "It is one big jigsaw, which indicates a fast hyper-analytical, in fact, probably social, friendly, outgoing and laser-sharp thinking processes."
Public Documents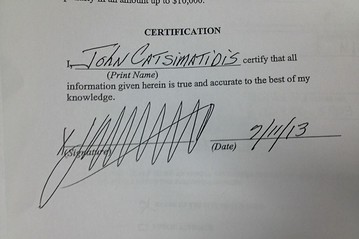 John Catsimatidis's signature on a Conflicts of Interest Board filing
Mr. Catsimatidis, a political neophyte, is a billionaire businessman who is seeking the Republican nomination in the Sept. 10 primary. He's best known for owning the Gristedes supermarket chain.
The first letter in Mr. Catsimatidis's signature – the J – is what handwriting experts call a "revenge stroke," Mr. Baggett said. That means he would be a "formidable enemy and has a long memory of those that did him wrong."
Dianne Peterson, a handwriting expert from Tennessee, offered a similar analysis of Mr. Catsimatidis's John Hancock. "This guy has a large ego," she said.
Ms. Peterson described Mr. Catsimatidis as analytic, masculine, aggressive, extroverted and tense. Of the signatures she analyzed, she called his the most "dynamic" — but warned he could have a temper.
Ms. Peterson said the line striking through Mr. Catsimatidis's signature concerned her because it indicates there's something within him that he finds displeasing. Mr. Baggett also noted that particular stroke, saying it represents something self destructive.
Bob Baier, a handwriting expert from Warwick, New York, said Mr. Catsimatidis's signature suggests he's a bit controlling. "He likes to be in charge," Mr. Baier said.
------------ Special Newsletter Reader Offer ------------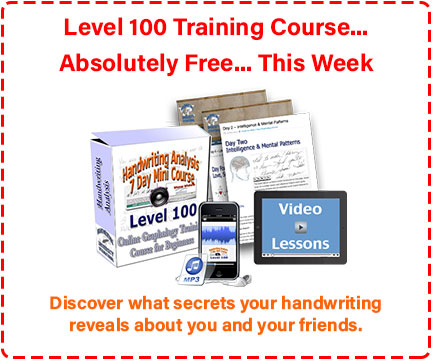 Visit the discount page now.
Asked for his response to the experts' analysis, Mr. Catsimatidis replied, "It's largely true and it's scary how largely true it is, except for the arrogant and ego part and the self-destructive part."
Mr. Catsimatidis said he is analytic and a quick decision maker. "If you give me all the facts, I can make 20 important decisions in five minutes," he said.
As for the ego charge, Mr. Catsimatidis pointed out that he had planned to run for mayor four years ago, but he stepped aside when Mayor Michael Bloomberg said he wanted to run for a third term. "I did what was best for New York City," he said.
——-
As for Anthony Weiner, Mr. Baier said the former congressman's signature suggests he's "going to enjoy seeing posters of himself."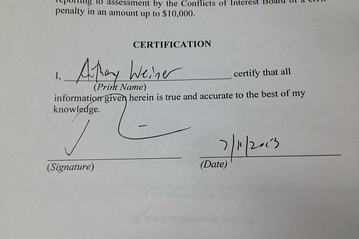 Public Documents
Anthony Weiner's signature on a Conflicts of Interest Board filing
Mr. Weiner, a Democrat, launched this spring a comeback campaign after resigning two years ago amid a sexting scandal.
"He has a very good opinion of himself," Mr. Baier said.
Mr. Baggett said Mr. Weiner writes "like an epileptic chicken."
"He has irritation at himself. He has irritation at others," he added. "His signature is nothing but a one big stroke, which essentially means arrogance, ego and hiding of one's inner self."
Ms. Peterson described Mr. Weiner's signature as "threading" because none of the letters can be made out.
"People that thread will often will act out without consideration of others," she said. "It's a sign of arrogance."
—–

For Joe Lhota, a Republican mayoral candidate and a former head of the Metropolitan Transportation Authority, his signature suggests "he likes to be seen exactly for who he is," Ms. Peterson said. Each letter in his signature is identifiable, she said.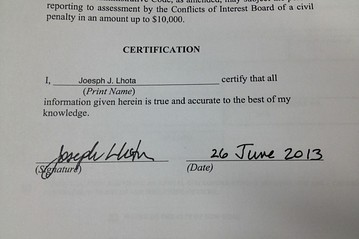 Public Documents
Joseph Lhota's signature on a Conflicts of Interest Board filing
"People like this cannot fake it and don't want to fake it," she said.
Mr. Baggett described Mr. Lhota's signature as one of his favorites because he has "fluidity, he is emotionally expressive" and he's "basically transparent."
"His ego is completely in check, meaning that he has a healthy normal self-esteem and he is not a narcissist, which is a wonderful thing for a politician to not be because most politicians are a narcissist," Mr. Baggett said.
Mr. Baier said Mr. Lhota's signature suggests he has a firm code of ethics and he's going to get the job done.
—–
Former Comptroller Bill Thompson's signature suggests he does not show emotion, said Mr. Baier.
"He's ruled by his head, not his heart," Mr. Baier said. "He'd be very cool under pressure."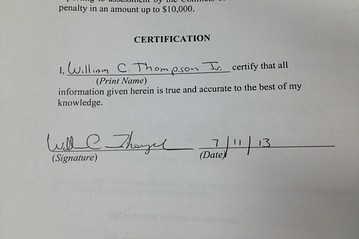 Public Documents
William Thompson's signature on a recent Conflicts of Interest Board filing
Mr. Thompson, a Democrat who unsuccessfully attempted to unseat Mayor Michael Bloomberg four years ago, has been criticized, in the past, for lacking the fire in the belly for the job. Mr. Thompson and his supporters said those critics are mistaking his sense of calm for lack of passion.
Mr. Baggett described Mr. Thompson's signature as the "most self controlled and objective" of the ones he reviewed. But he's not going to be the most dynamic politician, he said.
"He is logical, he is cool under pressure, he is a bit self-centered and that lacks impulsiveness. He's also secretive and he keeps his emotions close to the vest," Mr. Baggett said. "He would be a great poker player, however he is not the smartest candidate and he is not the most egomaniacal candidate."
————–

Several of the mayoral candidates are currently office holders — such as City Council Speaker Christine Quinn, Public Advocate Bill de Blasio and Comptroller John Liu – so they were able to file electronically and their signatures did not appear on their disclosure forms.
Former New York Gov. Eliot Spitzer is not running for mayor – he's seeking the Democratic nomination for city comptroller – but the Journal asked the experts to chime in on his signature, as well.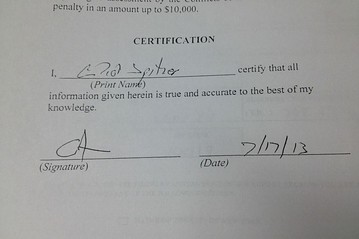 Public Documents
Eliot Spitzer's signature on a Conflicts of Interest Board filing
Mr. Baier said Mr. Spitzer's signature suggests he "does not like to beat around the bush" and has a "pretty big ego."
"Boy, he wants you to get to the point," Mr. Baier said. "People who talk very slowly probably drive him crazy. He probably finishes their sentences for them."
Mr. Baggett had trouble deciphering Mr. Spitzer's first name on the document sent to him by the Journal, mistaking Eliot for "Carol." But Mr. Baggett said the signature shows the writer is good at leading a small group or project.
Mr. Spitzer's worst quality, based on his signature, is a penchant to be "dominant and controlling," Mr. Baggett said.
—–
The letter T in Ms. Quinn's signature "reveals stubbornness and her sharp T-bar is sarcasm," Mr. Baggett said. "She just wants you to shut up and get your job done."
—-
Source:
http://online.wsj.com/article/SB10001424127887323309404578614263675657662.html
http://blogs.wsj.com/metropolis/2013/07/18/an-analysis-of-mayoral-candidate-signatures-revealed-in-new-filings/