Below is the latest video interview for the Handwriting University Membership site. This video is not for public viewing, only registered members and newsletter readers. Please leave your comments below the video so future members and readers can take away some bits of knowledge from viewing it.
To gain more from this video interview, make sure you download and print out the actual handwriting from the PDF file and do a full personality profile, before you look at the video. Otherwise, it will be like looking at the answers to the crossword puzzle, before you attempt the puzzle. You will learn MUCH more if you analyze the handwriting, make a comment below… then view the video.
------------ Special Newsletter Reader Offer ------------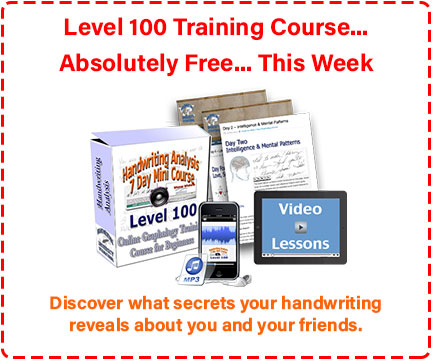 Visit the discount page now.


You can find his full resolution handwriting sample in part one, located here:
http://handwritinguniversity.com/members/weekly-newsletters/arthur-k-1/
Contains: Arthur K., Video. Part One and Part Two. Conclusion of interview
Video 1:

Video 2:

---
All General Member Access, plus…

Bonus Level 100 Instant Access ($17 value)
3 Months Past MP3 audio archive member classes
Member's Only MP3 of the month
Member Video of the month
Monthly Member's only discounts on special products
Member's Only Live Monthly Tele-classes
Level 101, 201, 301, and 401 online access (if you already own the hard copy course.)
---