Not only are these "super computers" from the 1970's… but continuing to view this useful psychological tool as a "STATE FAIR" entertainment is damaging to the public perception.  It's difficult to change the FRAME of handwriting analysis being a science and useful for personal transformation when there is a family of 40 year old computers spitting out random sentences at a state fair for $4.  I really hope he does not find a buyer for his "entertainment business".
What are your thoughts?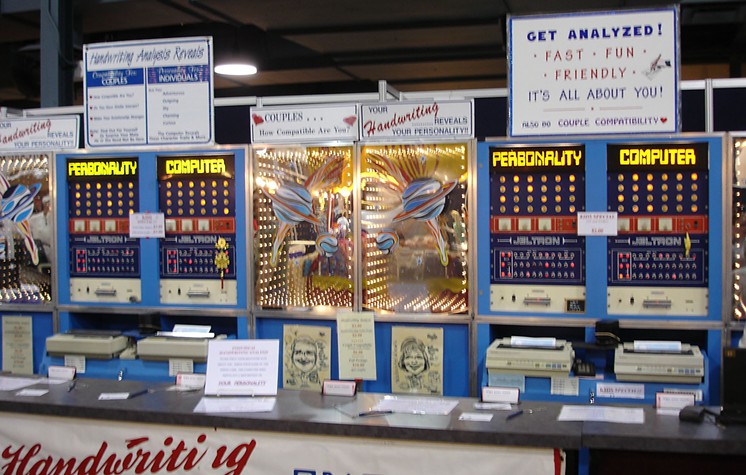 http://www.dallasobserver.com/arts/after-17-years-at-the-fair-73-year-old-jack-libby-is-packing-up-his-jeltron-personality-computers-8818713
Jack Libby has been bringing the "Jeltron Personality Computer" his father built to the State Fair of Texas for the last 17 years.
While some sights and sounds of the State Fair of Texas stay the same year after year, Jack Libby is on the verge of saying goodbye to the annual attraction after nearly 17 years of traveling from one fair to the next with his wife, Regina, and his father's Jeltron Personality Computers. Libby has hung a "for sale" sign on his father's traveling handwriting analysis booth.
"My father built this equipment 40 years ago, and we have been at this fair since 1976," Libby said as he stood in front of the flashing yellow lights of the pinball table-sized machines his father built. The concept is simple: You pay $4, write your signature on a slip of paper and hand it to Libby. Less than 30 seconds later a printout detailing your personality is handed back to you.
The descriptions say things like, "You sometimes speak when you should be listening" or, "Your charm and wit win you many friends." But 73-year-old Libby can read your signature nearly as fast as the machine after so many years working the fair, though he says he's still not quite sure how the machines actually work.
"I know that the printouts are usually pretty accurate," he says "People wouldn't do it every year otherwise." After nearly two decades, Libby says he's developed a knack for picking up on peoples' personality and body language, which is part of the reason why the booth has built a cult following.
Couples young and old come to the fair every year to check their handwriting analysis. It's a quick diversion for some, a compatibility test for others, and Libby says he's seen his fair share of marriages bloom at this booth.
"This is an entertainment; we entertain people," Libby says. "We have families come up here and they laugh and they giggle. It's fun to watch them have pleasure."
When he first started running the booth it was as a favor to his father, John E. Libby, who built the machines after retiring as the general manager of the Minnesota State Fair in 1976. John was recruited to work at the fair by his father James, who had worked the fair for nearly 60 years. It was a family business, and the Minnesota fair grounds still have a conference center named after the family.
John retired after 14 years to get work on the other side of the big top, building his machines and traveling the country with his act while investing in giant slides and bier-gardens in Milwaukee. Libby didn't work with his father much growing up. The act was traveling across the country as he graduated from college and opened a plastics factory. He'd work there for 17 years before selling it to join the Peace Corps.
"It was just about the time that I came back from the Peace Corps that [my father] had his stroke, and that was when the family talked me into [taking over the act]," Libby said. "My father needed support and somebody had to take care of it, and that was me."
The job has become a hobby for Libby, as he only travels to four fairs a year. But with his children becoming successful in their own fields and no obvious person to pass the torch to, he says it's time to sell. And he has some advice for any prospective buyers.
"If they wanted to make a profit they'd have to be willing to travel," Libby says. "Now, I have eight of these machines … if somebody wanted to by the whole business they could, and send crews out to do other fairs."