One of the best uses I can think of for Handwriting Analysis is hiring and selection! If you're like me, you want to avoid problems with employees, tenants, baby sitters, even spouses. In this video segment I'll show you how to find out if someone is right for the job with just a few simple questions.
Helping someone choose the right person can be a very lucrative career for any handwriting analyst…some experts charge anywhere from $100 to $500 dollars an hour consultation…but you have to be accurate and to do that you need to understand what personality traits contribute to an employees success in the position they are applying for.
The best approach is to ask the employer, what personality traits do they want this person to have and what personality traits do they want to avoid in an employee.
What personality traits would you want for an accountant, a teacher, a salesman, a manager?
Watch this segment taken from the Handwriting Analysis Certification Course…where I role play the handwriting expert hired to consult with Curt Baggett as the hiring employer.
When you follow this example, you'll get positive results, every time….
This video clip is one small section of
our entire DVD/ CD home study course.
Visit this link to order the entire seminar on DVD and CD.
http://www.myhandwriting.com/learn/hwcertco.html
So…who would you pick for the job? Post your answers in the comment
section and give a brief explanation as to why you choose your answer.
Handwriting Sample 1: Steve

Handwriting Sample 2: Alma

If you enjoyed learning this technique and want to learn more…
…we're introducing more dynamic video segments in our certification course to give you better instructions on how to give an accurate handwriting analysis, with lectures on the Basic Traits, Brain Chemistry, Verbal Analysis, Hiring, Success Traits. Plus, Bart analyzes several handwriting samples live with his audience to give you a thorough understanding of how to pull it all together and give a great verbal analysis.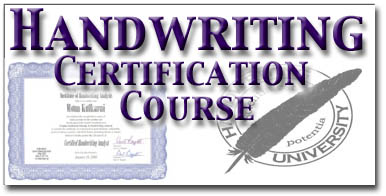 With the Handwriting Analysis Certification Course, you will receive two separate lecture series, one audio set and a different lecture on DVD, with all the supporting materials including texts, samples, grapho-deck, emotional gage, everything you need to get certified as a handwriting expert.