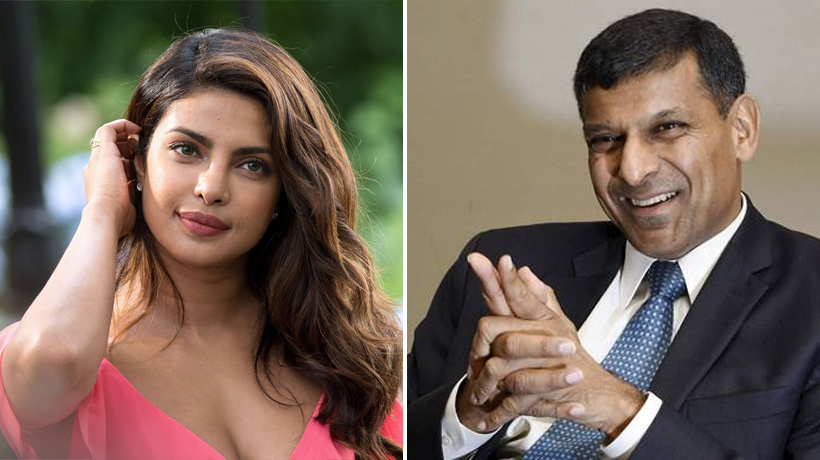 Bengaluru: I am not sure how I would be or behave in front of a Graphologist; afterall, she/he will be able to deduce a lot about my personality from my handwriting strokes–and somehow I am scared to be so naked. But isn't it amazing to know that our carefully written cards, our hurriedly written diaries and angrily written notes reveal a lot about us and yet we are clueless about what we are projecting. The study of graphs is Graphology and just like Psychology, it is also an empirical science. And to know more, we chat up with Aditi Surana, an Internationally renowned Graphologist and the Founder of 'GraphoCoaching' – an effective method that combines the science of brain Neuro-pathways(language of the brain) using handwriting modification as a medium with the art of coaching to create specific results.
Like most god gifted talents, her knack for analysing handwritings revealed itself at an early age. She laid the foundations of her career by analysing handwriting for friends and family at a local coffee shop. Her pioneering spirit bore her well when she decided to approach the regional Heads of Café Coffee Day and in no time, she was invited to set up at the at the prestigious chain of coffee shops across Mumbai. Her rise did not stop there and before long she had captivated an interesting client base of students, professionals, businessmen and housewives. Some of the most prominent names in the country, Pratibha Patil (Ex- President of India), Sachin Tendulkar, Yuvraj Singh, Saurav Ganguly, M.S Dhoni (Cricketers), Naseeruddin Shah and Bipasha Basu (Actors) have all consulted with her.
Handwriting is brain writing, is that true?
Yes it is. People who use their feet or even their mouths to write and still reveal their personality accurately through their writing.
What is Graphology? And how does one analyse handwriting?
Graphology is a study of graphs created through the patterns in one's writing. We've all learnt to write early in life, copying the strokes from elementary teachers / from a cursive writing book, which should therefore establish a standard script making all our writing identical, yet we differ. This deviation from the standard reveals the unique patterns of our personalities.
How did it start for you? And how did you get hooked?
From a very young age, I could see patterns in writing strokes that corresponded to people's behavioral traits. Almost like reading between the lines instead of on the line. I've since furthered my learning with a few international certifications that's only added to my natural gift.
I believe people may lie, but bodies are honest. We lie to each other and even worse, to ourselves. Handwriting after a point becomes brain-writing and we cannot consciously control every movement making it one of the most honest tools to read what is happening within the human mind. Many a times it feels like a special gadget in hand.
Is it a wise thing to analyse a person before hiring him/her through his handwriting?
Higher compatibility between job roles and personality is the easiest way of increasing happiness quotient. Handwriting can be a very effective method to know that match.
Reports are talking about it being a pseudoscience, is it? Then what is the process and how accurate are the results?
Yes. Graphology like psychology is based on empirical study. Sadly unlike psychology very few researchers have invested time and resources in establishing the scientific nature of graphology as a subject. In my experience of 15 years, I have never come across a sample that didn't reveal the true nature of a person.
You have been consulted by the bigwigs, can you share details about their signs with us?
I can't reveal the details of the ppl I have worked with. But adding two celeb analysis for your readers.
Priyanka Chopra
Upward straight baseline- upward shows enthusiasm unlike most common notion of 'positivity'. these determined individuals tend to be very energetic and charged up while dealing with situation-positive or negative
Need for challenge-hook in letter C shows constant need for challenges. People with this stroke can't be idle. They are looking for stimulations all the time. Mostly making it difficult for them to deal with this monotony of life.
Keen comprehension-her needle points in 'n & m's' show capacity to grasp an idea immediately-seemingly without any effort.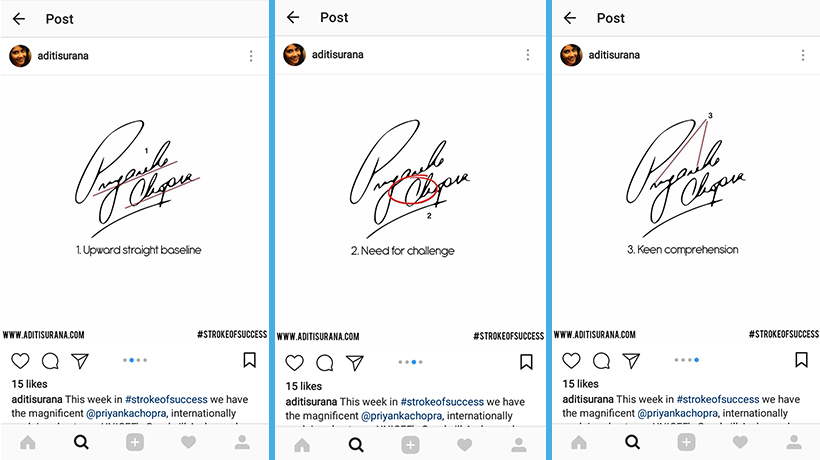 Raghuram Rajan
Shows fluidity in thinking and action, creating an essential balance between his intellectual pursuits and execution.
Small arrow showing straight baseline shows focused approach and determination.
Legible clear signature shows the eye for details and commitment to quality.