The Accuracy of the Handwriting Science From an Arabic Point of View by Lina Husham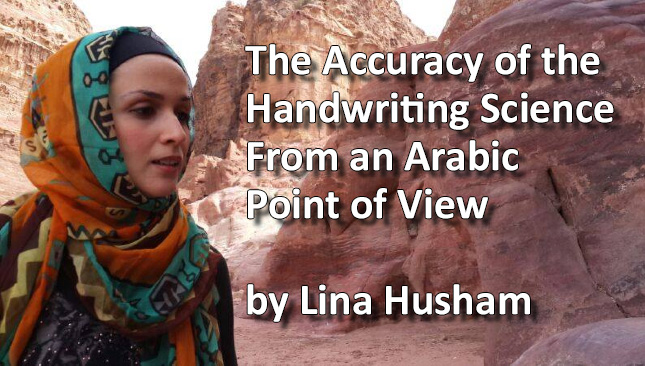 As I was growing up, I started to notice there are two kinds of people: happy and unhappy.  I understood that there are two major feelings that shape our days and forms our lives (happiness and sadness).  Happiness is the one feeling that without it, everything else seems meaningless and pale.   Whether it's success that you have, money, beauty, house, kids, you name it…without happiness, it's nothing.
So I started looking for the reasons that makes us feel this way or that way by asking everyone around me and going into long talks with my father at a very early age, discussing life matters and issues whenever we got the chance to do that.  It was in one of those discussions when I first got introduced to our holy book (Al Quraan) knowing that the first word of Al Quraan is (iqraa= read).  That alone set a strong belief in me that it all starts from reading … reading .. and reading.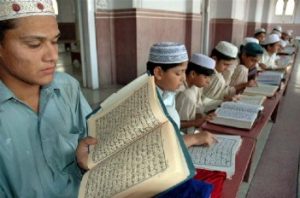 Yes this is actually how Islam began (regardless of how people perceive Islam nowadays).  So naturally I started to read more and more each day looking for answers to the question that I first started my research with: why some people are happy and some are not.   My hunger for knowledge lead me to all kinds of books – from a simple mini book for quotes to a series of books talking about ancient history.  The key for my question's answer was in front of my eyes all the time.  I just didn't take it into consideration.  It was in a simple verse in the holy Quraan that says: "He gives wisdom to whom He wills, and whoever has been given wisdom has certainly been given much good."   Of course the translation can never give the profound meaning that it is in its original language (Arabic) but the bottom line was I knew that the key is in getting wisdom – which I pray to god everyday to give to me- and as we all know that wisdom is a word we use for those who act right most of the time whether in their business, life choices, or in their daily interactions with other human beings.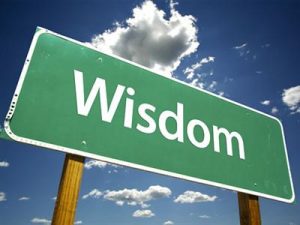 I was at that point set off towards a more superior goal with finding and sharing Wisdom to make myself and others Happy.  I went through all kinds of sciences and myths that the different cultures had to offer; from palm readings to astrology to Feng Shui and face readings.  I would apply them on everyone and everywhere and some are accurate on parts and not so much on others.  Until that one day when I first got to read about handwriting analysis through Handwriting Analysis University by Bart Baggett and got my handwriting analyzed by the handwriting analysis wizard, which was 100% accurate!  And then with the few resources of  information I received and by applying them on my family and friends, I said to myself "This is it!  This is what I've been looking for!"  This is the science that will unlock all the doors for me and answer all my questions, and what could be more perfect than reading into people's souls finding out what triggers them and what does not; finding out the roots of their problems and the reasons behind their success, as well as finally finding a way with helping them achieve their highest potential through grapho- therapy.
From that perspective, every day after that, I started to learn more and apply what I have learned with everyone I met.  Most of the time it was 100% accurate but there were times that I wondered why it didn't fit with the profile of each person I would examine with their handwriting.  Many times I suspected it was my simple knowledge at that time – especially since I was practicing it as a hobby and as an amateur analysts.  And some other times I felt it was because of the different culture that I am from with being an Arabic girl.  Whatever the reason was, one thing I was and I'm sure of is that handwriting never lies – especially when you take it from Handwriting University because I've read other books for handwriting analysis and found a lot of conflict within the same book let alone with what I've learned from Handwriting University.

Make sure you are subscribed to Handwriting University's Email Newsletter.
Day by day, I continue to go deeper into the science and as I do, so many pictures become more clear in my mind.  My belief in this science grows stronger.   It gave me the gift of understanding, and not only for one person at a time… but for the whole society at some point.  What is considered as a bad trait in America, it is sometimes a preferable trait in the middle east and vise versa.  This only made me wonder what will happen if we take of this trait or that?? What will happen if we change their handwriting?? Will that lead to people changing their believes and actions? Many questions that need a sufficient study to be able to talk about but for the time being here are some of the observations I found in the samples of our Arabic friends and its roots and reasons behind its happening.  Some are funny, some are controversial but in all cases it definitely will make you think twice before judging anyone:
The O loops;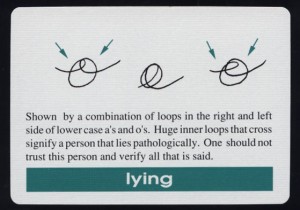 As we all know that when the inside of an O is clear it means that this is someone who doesn't lie.  No loop equals a great personality right???? Well my dears, that may be in America but when you come to the Middle East you have to think twice about someone with no loops in their O's and here is why: the trait's name (no loops in the O) is Blunt and that is exactly what is unacceptable in our culture.  A blunt person is usually observed as rude.
Everyone here knows the truth, they just don't want YOU to tell them that.  We are a nation of compliments… and we can't live without it, you find it everywhere in everyone and with or without a reason to actually give a compliment.  For example, a friend calls you at 8 o'clock in the evening  just as you are about to sit down with your family and watch your favorite night show and tells you that he is coming over to have a cup of tea at your house.  Now normally this thing will never happen in America and if it did you would be so honest about it and tell him that it's not a convenient time for you right now right??? Well that is one impossible thing to do here in the Arab world… no matter how messy your situation is no matter how inconvenient for you it is you can never ever say the truth about it.  When someone calls to come over you pay extra attention to show them how it is absolutely great idea and to show them they are mostly welcomed whenever and however… And if somehow the devil played with your head to actually say the truth and be a Blunt type of person ,  I assure you that's the fastest way to lose friends and families.  It's practically social suicide!
Now I'm not saying here lying is good… in fact lying is the one trait that whenever found in one person you can predict they'd do anything since they can get out of any situation by lying.
People usually get confused between lying and giving small complements here and there … telling your wife she is beautiful is not a lie, it's a compliment…telling someone who gave you a present you didn't like, that it was a beautiful gift is not a lie,  it's a compliment and courtsey.
You can call a word as a lie when it has the three components below:
Its not a truth

It's not useful (it doesn't help someone build a good habit/ belief or get rid of one)

It causes damage (into one's self, into the recipient, or into a third party)
The last part is the most important part.  It's what most people argue about: they think many times that lying is actually PREVENTING damage from happening to any of the parties I mentioned before.  But here comes a super important component that whenever you find it, this component can hurt… you should know you were LYING and that component is; your Pride…your dignity… there is a saying "A man with every lie breaks part of his spirit..until there is no spirit left to break or redeem."  I think that sets the criteria of what is a lie and what is a complement.
What is left to set out is that which kind of person to expect a lie from and which to expect a compliment from, knowing that both have a loop in their O's.
If you find the O loop in a person with one or all the below traits then probably it's LYING:
Resentment issues

Low self esteem

Issues with the opposite sex

Jealousy

Strong pen pressure
Most of the bad traits when you put the O loop with them it becomes lying.  Hey no one said that honest people are a blast in this world 😉
If you find the O loop in a person with one or all the below traits then its probably COMPLEMENTS:
Diplomacy

High self esteem

Emotionally responsive
That being said you should keep in mind the good intentions all the time and experience is the best way to set things together in your mind, it's never a one trait; it's the combination of those traits.  And from my point of view, I've seen people with a clear O and a low self esteem with go to hell K and they were so rude and obnoxious.  I didn't like them at all and on the other hand I've seen people with light O loops and a high self esteem and no unsolved issues kept inside .. and I found them sweetest than sugar.  It's all about combining traits and understanding.
The Y loops;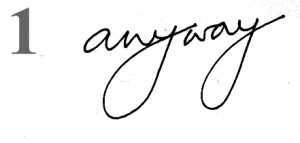 What I'm talking about here are some major traits I've found on most of my friends' handwriting samples (my Arab friends) and it came to me as no surprise since I live in the middle of Arab people all my life and I know exactly what to expect from everyone and why, as mentioned before on the O loop .. I expect many people to have that light loop inside their Os most of the time due to their complimenting nature. And now our discussion will go through one trait that reveals vitality and physical activity and that is the loop in the Y.  Whenever you find someone with a looped Y you can tell immediately that they are active in their daily life (physical wise) and that does include their sexual aptitude.  Now from the messages I get from the American media, I think that it's okay to be physically active for men and women.  In fact, it's preferable especially if you are looking for a good date, right??? Well, when you come to an Arab nation you will find that this special trait (if observed by an analysist) can either make you … or break you, especially for unmarried girls (girls between 18- 25).  Here is how it can make you or break you: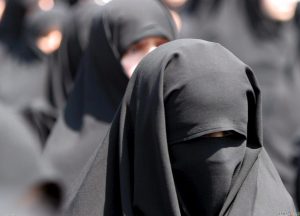 In our culture the girl should be a virgin before marriage and practically not to have any kind of relationship with any man unless it is a pure friendship or a friendship in the intention of marriage.  The last one is where their parents are aware of this relationship, but in all cases one important condition is that there should be no physical interaction between the two at all, putting in mind that it's rare to see an unmarried girl to put sport into her daily activities since they are either still studying or working.  The house chores are usually done by maids which leave us with what??? Yaa… a girl with a wide loop in her Y is a problem calling here!  And if someone asks me to either recommend her or not for their son I would probably PASS such situation . Recommending a girl with a straight Y would make me much more comfortable even if it means she is a loner or doesn't trust many friends.
I bet you didn't know that about us huh??? Well now you know.
The T bar:
Would I be exaggerating if I say that half of our people have the (temper) trait in their T bar??? And the other half has the procrastinating type of T bar???  Would my fellow Arabic friends agree or disagree with this statement??? Well I don't know all the answer and I definitely don't know all the facts since there is no sufficient study that conducted by me or anyone else in this regard YET.  But I do know some facts about our Arab nation that can give me a clue on why the majority of us either have temper issues or procrastinating issues.  For example, the NLP principles are new to us, brought to the Arab world just about 15 years ago by the great prof. Dr Ibraheem Al faqqi (R.I.P).  People are actually starting to listen more and apply more especially by the new generations and by the new parents.  In other words, most of our parents were using the old school methods in raising their kids most of them with very short temper -due to life pressures- not knowing that their kids are merely a mirror to their actions, now that is a FACT!  To this day, I observe many times some parental behaviors coming out from my daughter's grandmother or from my friend's mother that just make me think of what a messed up belief system that they are implanting in those kids… without their awareness… Such as – and this is like a national tradition – When a kid runs around the house playing and suddenly bumped his head on the door or something, naturally he cries a bit right???… Now imagine what would an elderly parent do??? Stop guessing I'll tell you what they would do.  They would run to that door with their shoe and start beating the crap out of that poor door until the kid stops crying, asking him: "Tell me, did this door hit you??? Tell me??"  If the kid agrees, then they start beating that door some more.
So now imagine what would that do to the belief system of that kid… he will grow up thinking:
Whomever and whatever causes me pain then it's a bad thing.

If it's a bad thing then it deserves to be treated so badly and even physically abuse it .

I can't feel good unless I get my revenge.

And last but not least …….. it's never my fault.
A terrible attitude… unfortunately, that would create so many troubles in the future of that kid and one of them is what I was talking about the temper trait in their T bar.
Another example on the bad NLP that had been used with us for decades are what we've been taught in schools, the amount of negative programming teachers did unconsciously gave us is huge.  Probably most of the times were out of their good intentions to teach us and motivate us to do homework and prepare for exams, not knowing that they are actually the ones preventing us from achieving our best. I still remember a phrase they used to write on the blackboard each morning and at the end of each day at school and that was ( DON'T PROCRASTINATE TODAY'S HOMEWORK TILL TOMMORROW) now go figure what that phrase did to our programming … they are practically telling us ( DO PROCRASTINATE TODAY'S HOMEWORK TILL TOMMORROW).  I would prefer a different phrase such as (doing your homework today is a relief) but that didn't happen and the time doesn't go back … all we can do is to program our kids the right phrases and the right words…and that's my friends how most of us had or has a procrastinating T bar in their handwriting.  Pretty bummer ha?
The slant: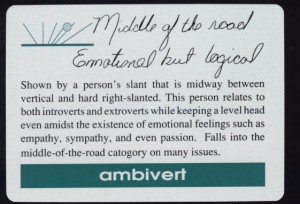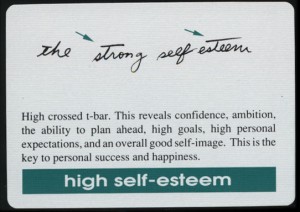 It took me many years to actually admit that half of our people, if not more, are somehow mentally ill…oops that didn't come out well … well let's say they have some sort of personality split – at least temporally 😉 – as I read about slants and as much as its complicated as much as its simple … as simple as this
Slant to the right is an extrovert

Slant to the left is an introvert

Vertical slant is selfish

Mixed slant is a personality split
As I read about it I think of all the people I know… of all the people I've met and I try to remember if somehow somewhere I looked accidently to their handwriting and I try to remember how it looked like. My observations confused me at many times, I mean why some perfectly normal people from my experiences with them showed a mixed slant in their writings? And some nut job fellows showed an extroverted slant??
As it turned out and as I learn more and more each day about this great science, I understood that a slant alone doesn't tell you much about someone's mental health.  A lunatic could be incredibly expressive, imagine someone with (a right slant + a talkative O + a resentment issues+ a temper T or a sarcastic T) I dare you, if you won't call him a lunatic from the first meeting. So here the slant added a factor of him expressing his inner feelings with no boundaries unlike those with a left slant where they tend to put boundaries for themselves and keep their feelings for themselves… which is by the way a trait that is found mostly in Arab girls those whom we've talked about earlier -girls following their parents and society rules- so a right slant person is not necessarily a lovable one nor a left slant person is socially retarded.
Now back to what confused me the most; people with mixed slant (many Arabic people) doesn't reveal split personality symptoms… I found out that an Arabic person with such trait is actually perfectly acceptable.  Many aArabic people have much different English Writing than Arabic.
Here are two possible reasons: the first reason is that, Arab people are living in conflicts all the time within themselves within the demanding society, where each person has some profile for the public that they must fit, and in privet they just let go of that mask and just live their day let's say in peace without the pressure of expectations.
For those who know the Arabic society closely they would know that it's may be one of the most demanding societies in the world, you just can't act the way you want …ever… there are always judgmental eyes around you, controls the way you speak…the way you dress… your hobbies… and even your thoughts, now the problem is not in only that, the problem is with the contradiction that is within this very society of ours that we see all the time, which is in my opinion had a great deal in most of Arab people exhibiting some sort of personality split in their handwriting samples, for example they pretend to be Muslims but they don't act like one, they tell you not to smoke cigarette but their Tv shows filled with young people's role models smoking all kind of stuff, by the way the Arabic TV shows and films are where most of our society infections comes from and the lack of defense mechanism against those infections at our parents are what causing this problem , they tell the girls not to have boyfriends and to wear decent cloths yet they let them watch Arabic films filled with exposed scenes and premarital relationships and to listen to Arabic songs encouraging such actions. These miss match messages are what creating a condition of an inner struggle about what is right and what is wrong what is acceptable and what is not… what they need to do and what they shouldn't do,
However for those who weren't victims for the above reason, there is always the second reason that they would certainly fell under and that is; they are writing in a language that is not originally theirs, it starts from a deferent side with deferent letters deferent formations and all that naturally puts the mind into a state of a temporally personality split, what is going on inside the mind is more like this (I want to express my feelings .. I want to write what I mean … I want to explain my point) leading to a right slant formation, then the thoughts goes through the subconscious mind and it goes like (what if I miss spell a word.. what if I didn't say that phrase well .. what if I didn't deliver my thought clearly) leading to a left slant exhibition, and between this and that the mind goes into a state of confusions or what graphologists call as a split personality trait represented by the mixed slant the writer just showed.
To sum our discussion the handwriting analysis science is vast and one of the most effective and accurate sciences I've ever read and study along with the NLP science in regards of the art of reading, dealing and understanding people around you, and no matter what is your nationality no matter what habits or believes you carry … you will always be looking for happiness to live syncline with family and friends and to achieve your best potentials… whatever you need to know whatever you want to reveal … the truth is always there in the handwriting scratches you see and examine… you just need to find it, until then;
Live positively,
Lina Husham,
------------ Special Newsletter Reader Offer ------------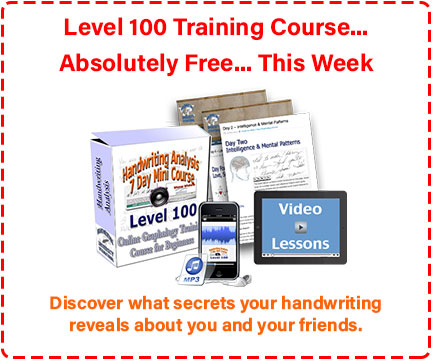 Visit the discount page now.