In today's newsletter online… you get a wonderful VIDEO
reveals the secret to how to tell negative handwriting traits
in a positive, but accurate way.
The secret is the metaphor.
The art of speaking someone's personality in words can take
years to master… even if you have memorized the 101 basic
traits revealed in handwriting.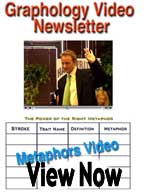 This video took our editor over 10 hours of editing time to make sure
you get to see it in full color… and absorb the material.
------------ Special Newsletter Reader Offer ------------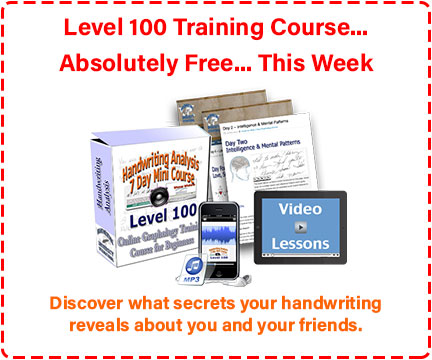 Visit the discount page now.

This live seminar footage which is not included in our home study
course DVDs.  So, enjoy  today's newsletter, where I explain how
anyone can do a verbal analysis and blow people away every time.
http://www.learnhandwritinganalysis.com/video/metaphor.html
If you enroll yourself into the 301 Certification Course, you can really master
this science.
You will master the science of personality profiling through handwriting
and you will master the ART of articulating the character traits using words.
Consider joining us live in person at an upcoming live seminar.
http://www.myhandwriting.com/seminars/
or http://www.handwritingconference.com/
Bart Baggett,
President, Handwriting UniversityHandwriting University/The International School
###