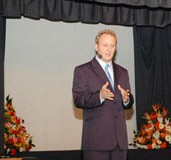 One thing many handwriting experts neglect to learn is how to tell someone else that they have a negative personality trait in a way that person can understand and relate to.
Would you tell your best friend he has low self-esteem? How about a fear of success? Probably not so directly and it's not the best way to keep friends or make new ones.
I'd like to invite you to watch this unreleased video segment recorded live in India and follow along as I explain how to describe personality traits using metaphors.