Stalker or Pathetic Fan?
An In Depth Handwriting Analysis by Bart Baggett
Can this handwriting tell you if the person who wrote it is a dangerous stalker or just a lonely fan who needs to get a life?
What if you got this type of letter twice a week from a woman you've never met? It happens all the time to celebrities, both big and small. This letter was shown to me by a radio host from Louisiana. I've also seen a similar writing style from an equally persistent "fan" at the KOMP studios in Las Vegas. I'm beginning to think that all loser radio fans write alike.
First, you do the full analysis by yourself and see what you come up with.
Click the picture below to see the full handwriting sample, print out the graphic, and do your own analysis, if you would like. Then, scroll down to see what I found out about this handwriting sample.

Here is my analysis, in my own voice. Just press play! (If no audio player is shown below, click the audio file icon.)
Here are my notes on this handwriting sample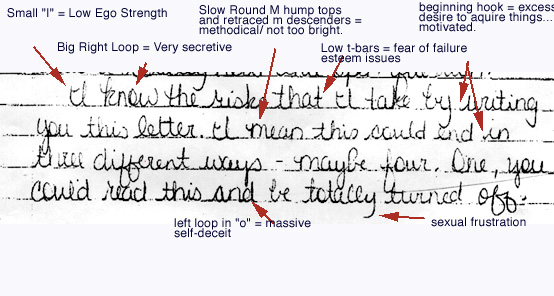 ---
Handwriting Analysis 101 Course

Brief Description:

This home study course allows you to learn handwriting analysis from your computer via our new membership site or from your own home via the DVD/CD package! This Handwriting Analysis 101 – Introduction to the Basic Traits includes the 101 book, five .MOV file streaming seminar clips, downloadable emotional gauge, and the entire 101 book, read to you via the three-hour Audio Book in Flash and MP3 format. Now entirely online and parts shipped to your door.
---