The fastest way to get customer support is using the telephone. We have people in both USA and Indian time zones.
+1-310-684-3489 Ext. 2 Doc Grayson 9am-11am California Time, Brianna 1 pm-7pm California Time.
+91 974 501 1322 for Pooja in India, Standard Time. INDIA (speaks Hindi, too) This is an SMS friendly number.
If you do not want to call, you can send an email or use the Facebook chat feature. Allow 12-48 for a response.
Chat with us now on Facebook. m.me/handwritinguniversity
Please make sure you have reviewed our Frequently Asked Questions page before proceeding to submit a customer support ticket. Your question may have already been answered on this FAQ page.
If you are a Silver Member and want to "freeze" or "cancel" your account, just send us an email.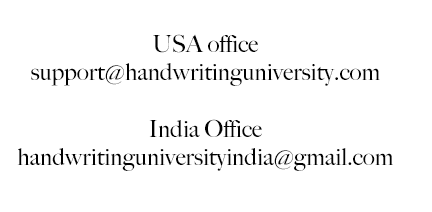 If you are sending gifts or thank you notes to our USA headquarters, please use this address:
Handwriting University International
15233 Ventura Blvd – 5th Floor
Sherman Oaks, CA 91403