This newly released segment is from the Criminal Minds portion of our 301 Level Certification Course. We hope you will have a chance to join us for one of our conferences but if you can't make it in person, here are the files currently available online for your listening pleasure, education, and entertainment. The average listening time will be about eight minutes for the audio clip. Video clip is a bit longer.
The files will not always go in sequence and will not always be from the same seminar or video series. If you want full, comprehensive training, you will want to join the program as an official student as part of the Level 301 Certification Home Study Course. We ship and train worldwide. And you can get certified in person and get a personalized Authorized Mentor to work with you one-on-one.
------------ Special Newsletter Reader Offer ------------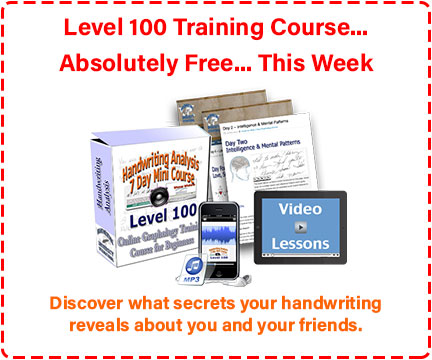 Visit the discount page now.
Watch the new 2016 video below here:

You can now learn handwriting analysis from the comfort of your own computer via your own speakers or headphones.
| | |
| --- | --- |
| Press "Play" button to listen now | Click the image below to view the enlarged version |
| | |
———————————————————————————————————————–
Become a Certified Handwriting Analyst in a few short months through our new DVD/Audio Certification Home Study Course
Click this link for more information:
http://myhandwriting.com/learn/hwcertco.html
———————————————————————————————————————–