Exclusive For Subscribers and our Community of Personal Development and Life Design Clients
Upcoming Live Zoom Events – Fall 2023
Upcoming Live Events
Backstage Podcast Guest Handwriting Analyzed Live Community Class. November 30th. Free to Newsletter Subscribers –  Click here to register.
Community Masterclass Trigger Yourself Happy. Mental Fitness Training based on NLP and Life Design by Stephanie Stuer. December 14th. Click here to register
Change Your Brain Grapho-Therapy Masterclass  – Free to Newsletter Subscribers & Students -December 12th. Click here to register.
Classes
---
November 30th, 2023 7pm PST. (7:30am The next day in India.)
Backstage Podcast Guest's Handwriting Analyzed.

Handwriting University Community Handwriting Analysis class. This is a special live conversation about the people you hear on The Bart Show Podcast. The World's Most Interesting People. Each month the Handwriting University Faculty analyzes the most recent guests who appear on the podcast. Just listen and download the guest's full handwriting samples on page three of the registration page.  It's free to attend. Guests are welcome.
Our Team of Handwriting University Faculty Members all teach this class on different dates. Whether or get Bart Baggett or another Faculty member… this hands-on class will help you get more insight into people through their handwriting. Discuss. Ask Questions. Share observations.
You can discuss any previous guest who has appeared on the Bart Show Podcast. We suggest you listen to the episode audio-only first. Then, watch the video interview on YouTube. Look at his / her handwriting before listening to the episode and make predictions. Were you correct?
The three people we will discuss this month are listed on page three of the registration page and anyone from the previous 12 episodes.  Handwriting sample on the confirmation page (3) after you register. 
The full interviews are located here:
https://www.youtube.com/@bartshowpodcast
Listen to the show on your favorite Podcast software. Please subscribe and leave a review.
Subscribe to the listener-only email list and get reminders of new episodes.
Because of schedules, we can't always confirm which teacher will teach until the day of the class. Rest assured your teacher will be a Certified Handwriting Analyst.

December 14th, 2023
Community Masterclass Trigger Yourself Happy.
Mental Fitness Training based on NLP and Life Design by Stephanie Stuer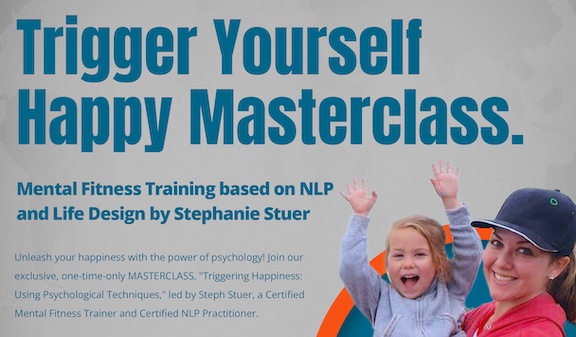 Description:
Unleash your happiness with the power of psychology! Join our exclusive, one-time-only MASTERCLASS, "Trigger Yourself Happy"  Taught by Steph Stuer, a Certified Mental Fitness Trainer and Certified NLP Practitioner. Dive deep into Stuer's revolutionary system that marries music, internal dialogue, and unconscious environmental stimulation to activate your joy, mitigate stress, and foster a harmonious existence. This masterclass offers a unique opportunity to not just learn but to experience first-hand how to stimulate happiness, boost your life satisfaction, and live more fulfilled every day. Don't miss this unprecedented chance to shape your emotional well-being. Pre-register today, and be a part of this transformational journey – at absolutely no cost! Be quick, because happiness waits for no one… don't let the world around you derail your peace of mind.
December 14th, 2023 Thursday
Time: 6 pm PST (Los Angeles, CA) / 9 pm EST (New York).  7:30 am India Standard Time.
If you log in at the wrong time… the room will be EMPTY.  Check your time zones.  https://worldtimebuddy.com
Registration: Click Here to Register
---
December 12th, 2023
Community Masterclass Change Your Brain.
Grapho-Therapy Advanced workshop by Pooja Saran. Hold your spot now.

During the workshop, you'll learn how to harness the hidden potential within your handwriting to reshape your brain and unleash your true financial potential. Pooja Saran will reveal the scientific principles behind this extraordinary practice and guide you step-by-step to optimize your handwriting for success, abundance, and prosperity. You'll discover how seemingly small changes in your writing can create a profound impact on your subconscious mind, paving the way for a positive money mindset.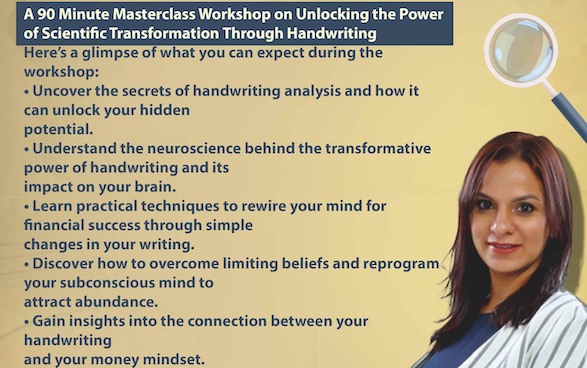 There is a replay of this class in the Grapho-Therapy section of the Level 301 Certification Level Course.  If you are enrolled, the link is here. If you are not enrolled, consider becoming an official student and get over 30 hours of video training. This kind of advanced and comprehensive training is simply not available for free on the Internet.  Call our office and allow us to work out a monthly payment plan to fit your budget.  There is no reason to settle for inaccurate information on such an important topic. Read More About the Course Now.
---
CONFIRM YOUR EMAIL. Avoid The Junk Folder.
Invitations and REMINDER emails are provided via EMAIL if you are an active subscriber. If you ever clicked spam or unsubscribed in the past decade, you will need to OPT-IN, double confirm, and activate your subscription again to the email newsletter list.  If your email has changed, let our staff know to update your student record. Check your spam folder.
Emails come from: support @ handwritinguniversity.com team @ bartbaggett.com
or team @ handwritinguniversity.com, or team @ prismlifedesign.com
Confirm your student info and email address here: https://handwritinguniversity.com/newsletters/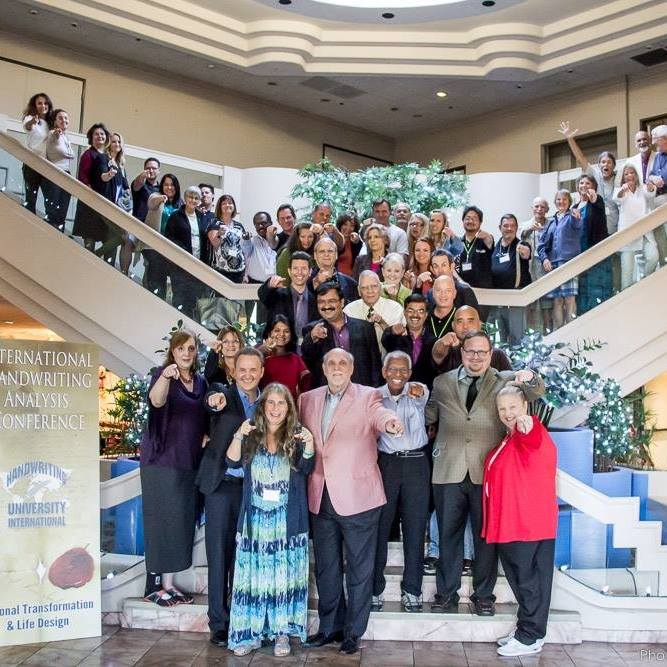 Hi,
If you are seeing this page that means you are now or have been in the past part of our personal development community by taking a course, reading a book, or being a subscriber to Bart Baggett's Handwriting University newsletter.
Now, imagine you being part of a family that is spread worldwide, imagine meeting everyone in the community globally who share the same passion sharing their vision, mission, journey, and experiences. Imagine spending a few hours a month with professionals such as Forensic Document Examiners involved in criminal investigations, Counselors & hypnotherapists, and Neuroscientists using teaching life skills
---
Where are the Replays of Past Classes?
We do not post replays of the community classes.  We invite you to attend LIVE and ask questions live.  If you want pre-recorded education, we offer over 40 hours of online video training inside our paid courses such as the PRISM Life Design Course, the Handwriting University 101 and 301 course, and more.  If you are on a very limited budget, we encourage you to open our emails which contain some of the best video clips from classes over the past 10 years as well as there is some basic information on our youtube.com channel. 
Bart Baggett also hosts a free podcast on all the major podcast networks.  Most episodes contain an element of personal development and a splash of analyzing handwriting.  You can watch the episodes on youtube.com or your favorite podcast network. We wish you well in your personal development journey on whatever budget you have.
---