INTRO
.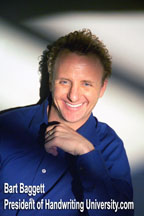 How to Use the Speed Learning Video
Play Intro Audio first! For best results, please wait while the video loads in your browser!
Short Audio Intro:

Press play to see the above Speed Learning Video.
Finished with your Level 100 Course? Upgrade here using this link and save seven bucks
immediately from the already discounted price. Upgrade to Level 101 now and have the Cards shipped to your door along with the basic video and audio course.
Not ready to upgrade? Read about all the $160 worth of goodies inside the 101 course or call our USA headquarters to decide which course should be next for you.
Call our International Headquarters with any questions about products here:
Course Enrollment & Sales: 1-310-684-3489 Ext. 2
Call any of our Authorized Trainers in your home country. They can answer questions and get your directly enrolled into any course you see on this website.https://handwritinganalysis.org
Handwriting Analysis Speed Learning Video
©2016 by Bart A. Baggett & Handwriting University International All Rights Reserved