March 2021 Community Class for Enrolled Students of Handwriting University.
| | | |
| --- | --- | --- |
| Bart Baggett & Pooja Saran | Thursday, March 18th, 2021 | Replay Now Available. |
Press enlarge to go full screen. Class STARTS at minute 28 of the replay, please fast forward.
Handwriting Sample of the Month. Sunshine Lee
Download Now and Complete your analysis.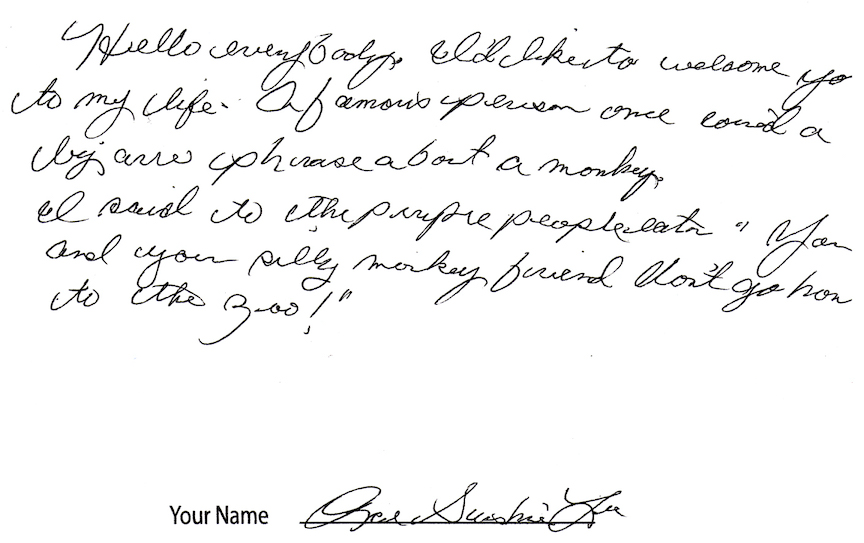 Now, answer these questions and be ready to discuss them in class.
1. Does she have more than one career or more than one primary interest?
2. Is she successful?
3. Is she talkative or secretive?
4. Does she blame others when things go wrong?
5. What was her childhood like?
6. What is her deepest motivation?
7. What has prevented her from success?
8. Is she honest or full of self-deceit?
Here is the chat log from the class…. really fun class:
00:24:57 pooja saran: Welcome Everyone !
00:25:10 Brian Faul: Hi there
00:25:14 pooja saran: This song is sung by our Hot Seat !
00:25:34 pooja saran: Hoping You will enjoy this !
00:25:47 Brian Faul: love it!!!!
00:26:27 pooja saran: will start the class shortly !
00:27:18 Snehal Chavan: Hi pooja mam
00:28:46 Shuchi Singh: Hello everyone
00:32:33 Naomi Wright: I am not understanding the trait Deliberateness. Specifically what it looks like, the definition is pretty clear.
00:37:02 pooja saran: Get in touch with us on [email protected] / [email protected]
00:40:08 Bart Baggett: Here is the handwriting sample that we are discussing today: https://handwritinguniversity.com/members/members-only/community-members-only/march-2021-community-class/
00:40:11 LaurieAnn Campbell: I will be on soon… just having a bite to eat. 🙂
00:43:29 Shripriya Ramesh: All the very best Ibolya ma'am
00:43:49 Ibolya Gáspár: aw, thank you so much
00:44:39 Bart Baggett: Here is how you access Sayali's class this coming week or so… https://empressepublishing.teachable.com/courses/87135/lectures/29500873
00:49:23 Naomi Wright: Yes, the lower zones intersect into the upper zone.
00:49:51 Kusum Sharma: Yes. many strokes reach out to the line below
00:51:23 Milind Khachane: may be two jobs one related toacting
00:52:17 Milind Khachane: very big y zone
00:52:21 Snehal Chavan: pessimist, fear of success,
00:53:34 Snehal Chavan: domenating
00:53:39 pooja saran: Bang on Milind ji
00:53:58 pooja saran: Great Snehal
00:54:10 pooja saran: great Kusum
00:54:22 Snehal Chavan: procrastination
00:54:44 Kusum Sharma: low self concept
00:54:59 Snehal Chavan: resentment
00:55:00 Kusum Sharma: desire to acquire
00:55:14 Kusum Sharma: dominating
00:56:39 Snehal Chavan: oposite sex anger
00:56:51 Kusum Sharma: procrastination
00:56:57 Kusum Sharma: self control
00:57:05 menka ahuja: acquisitiveness
00:57:12 Rishika Jain – 65: silly sense of humor
00:57:23 pooja saran: Great Investigation Guys
00:57:42 Milind Khachane: more in physical work than mental work
00:57:56 Rishika Jain – 65: somewhat pessimist
00:58:36 Brian Faul: sense of humour
00:58:42 Brian Faul: H
00:59:06 Brian Faul: H shouts out sense of humour
01:01:33 Naomi Wright: She is diplomatic.
01:04:07 Navneet Kaur: she is secretive , but can reveal some time
01:04:22 Navneet Kaur: which can be seen in o
01:05:17 Kusum Sharma: high L loops motivating, desire to acquire
01:09:29 Dena Zachara: I apologize. I'm traveling and the internet connection is unstable here. Didn't want to miss this wonderful class, though. =).
01:12:48 Kusum Sharma: she is honest, talkative but can keep secrets
01:13:40 Kusum Sharma: there are some loops as well
01:13:51 Kusum Sharma: lying loops
01:14:07 Naomi Wright: I would say she blames others for her lack of success.
01:18:57 Bart Baggett: Here is the interview with Sunshine Lee, if you want to rewatch it later or you cannot hear the video on this live event: https://vimeo.com/525356751
01:19:37 Agnieszka Dzida: Yes it is very often in use
01:22:27 LaurieAnn Campbell: Will do you zoom interviews Bart for this?
01:23:02 Chandra Shekara N: audio and video ok
01:24:54 Bart Baggett: Lies and Bullox!!!
01:25:10 Bart Baggett: "Speaking in Tongues"… Google it.
01:26:59 Brian Faul: Bart and Pooja now you understand when I said a mixed bag of crisps (chips)
01:27:35 pooja saran: LOVE THE CRISPS. Brian !
01:30:50 pooja saran: I am NOT WORTHY ENOUGH
01:31:29 Bart Baggett: Oh , God I don't drink… unless you count two weeks ago. LOL
01:32:37 pooja saran: And That's Self Deceit in real life !
01:33:24 Shripriya Ramesh: not letting the pain out..hiding..
01:33:28 Bart Baggett: Oh, Pooja. Please play us a song from her album.
01:33:51 pooja saran: Its really she is delivering the baby ! God Bless
01:36:34 Milind Khachane: she is not failure but definitely not happy person very e
01:36:52 Milind Khachane: hiding true emotions
01:39:59 LaurieAnn Campbell: We use the "she thinks she's all that and a bag of chips" here in Canada too… at least Toronto area. 🙂
01:41:17 Dena Zachara: Thank you! Ciao!
01:41:53 Karen Tan: Thanks ALL !!!
01:42:09 Latha Rao: what is the answer for the question about her deepest motivation pooja ?
01:42:54 Sayali D Shastri: here we go… XD
01:43:01 Bart Baggett: Chaos Through Eternity by Sunshine Lee Rae
01:43:07 Karen Tan: Desire to Acquire Knowledge. She can be motivated to achieve things
01:43:09 Bart Baggett: Album name SAGE.
01:44:22 Latha Rao: thank you so much pooja
01:44:57 Naomi Wright: This song is about as confusing as her mind.
01:45:18 pooja saran: THANK YOU ALL So Much, Its such amazing feeling to be a part of this global community. Please Stay Safe and Connected
01:45:22 Bart Baggett: See you guys in next week's Silver class. Last Monday of each month: https://handwritinguniversity.com/members/members-only/tele-class-schedule/
01:45:31 Latha Rao: very amateurish !!!
01:46:37 Bart Baggett: Do we have time for the entire album? LOL. I'm just kidding. Have a great weekend everyone.
01:46:55 Brian Faul: Thanks alot Bart and Pooja and class I really enjoyed this !!!
01:47:52 Naomi Wright: Goodbye everyone!
01:47:57 Latha Rao: Thank you, Mr Bart and Pooja for this wonderful session
Do not watch the following interview until you have completed watching the entire class…
Go here to register for the next live community class.
https://bartbaggett.as.me/handwriting-university-community-class