Special Community Live Classes for Handwriting University Certification Level Students and Graduates. Scroll down for replays of the past year of classes. This is the community class archive page.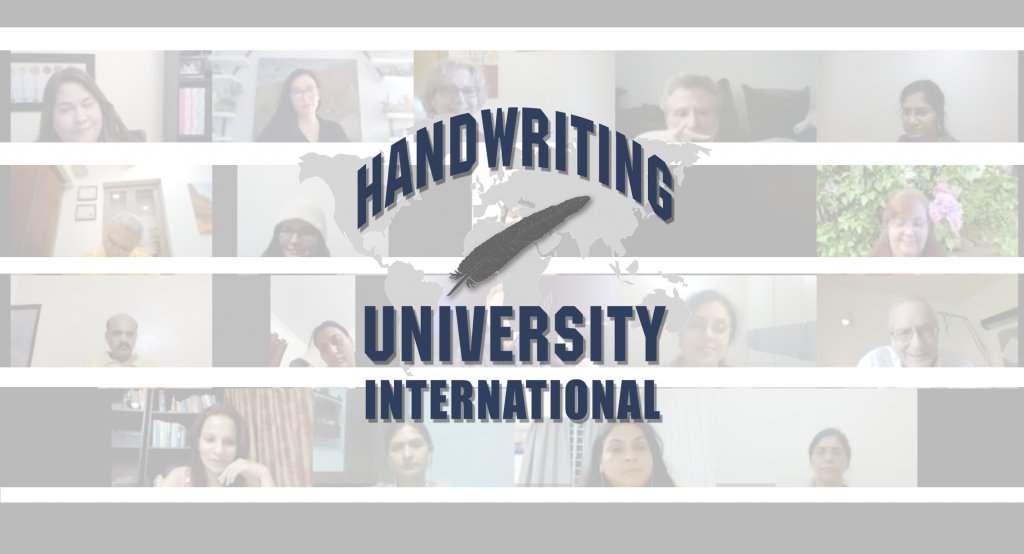 Consider it as a gift from the Entire Handwriting University Faculty
These new live classes are open all everyone who has ever been enrolled into the Certification Level 301 Handwriting Analysis Course, Graduates, and Faculty members. Topics such as: relationships and compatibility, handwriting analysis trait stacking, criminal handwriting, and much more.
This is an international community where you join in and analyze handwriting samples together and get your questions answered whether you are consulting with a client or finishing your first tests inside the 301 level course. Most of the classes refer to material inside this course.
https://empressepublishing.teachable.com/courses/enrolled/87135
These classes were for current Certification Level students and Alumni.
Host

Live Class Date

Register or Watch Replay

Bart Baggett
January 2021

January Replay – Slants and Ramon

Bart Baggett
February 2021

February – Intelligence and Franklin's writing.

Bart Baggett
March 2021
Bart Baggett and Pooja Saran
April 2021
Top 10 Questions Students Miss on the Final Exam. Part 1
Bart Baggett Pooja Saran
May 2021
Top 10 Questions Students Miss on the Final Exam. Part 2
Bart Baggett

Pooja Saran

June 2021

Personality Dashboard

Bart Baggett

Pooja Saran

July 15th, 2021
Bart Baggett

Pooja Saran

August 19th, 2021

Gestalt Psychology
Host

Live Class Date

Register or Watch Replay

Bart Baggett & Pooja Saran
March 21, 2019, Vanity, Stinger, M humps, and a few great stories. 1:10 minutes.
Watch Replay Now.

Click on the arrows above to enlarge to full screen.
Bart Baggett & Pooja Saran
April 18, 2019
Click below to watch the replay.
Bart Baggett
May 16, 2019 Guest Professional Speaker and Canada's #1 Handwriting Expert Jamie Cohen talks about his journey to a six-figure speaking career
Part 1 of 2 here.

Part 2 of 2 here.

Bart Baggett
June 20th 2019
Watch Replay Now. 88 Minutes
June Community Handwriting Analysis Class from Bart Baggett on Vimeo.

00:40:24 Sophia DuJardot: Here is the link to the form I use to collect information quickly and get feedback.

https://docs.google.com/document/d/1KPw5A6fuWzIbypTdx9D5fCKjk5rlad4GStEmaG9DtEE/edit?usp=sharing

00:42:09 Pooja Saran: Thanks a ton Sophia !

00:44:32 Richa Aggarwal: how to expalin people that they lives in the moment?

00:55:49 Bart Baggett (Host): https://empressepublishing.teachable.com/courses/87135/lectures/2126527

00:56:06 Bart Baggett (Host): Remember to go here and watch the forensics video:

https://go.internationalschool.us

https://empressepublishing.teachable.com/p/kids-handwriting-analysis-for-teachers-and-parents

Bart Baggett
July 25th, 2019 8am PST/ 8:30 IST
Watch 70-minute replay now.
Lot's of comments and announcements from all corners of the world.
Bart Baggett
August 15th, 2019 8am PST/ 8:30 IST
Watch Video Replay 1:15 minutes
Bart Baggett
September 19th, 2019 8am PST/ 8:30 IST
Replay now available. What does DRUNK handwriting look like?
Bart Baggett
October 17th, 2019 8am PST/ 8:30 IST Does Grapho-Therapy Really Work?
Watch Replay Now
November 14th, 2019 Hosted by Bart Baggett 63 minutes
December 19th, 2019 8am PST/ 9:30 IST
Replay is above. Click on the lower right to expand to full screen
January 23rd, 2020 Replay Available
Replay here:
February 20th, 2020 8am PST/ 9:30 IST The first 20 minutes discussed phrases you can use to get people to beg you to analyze their handwriting. You will laugh out loud.
Replay online. Very Funny Class.

March 19 th, 2020 Replay Available – Covid 19 Special Class
March 26th, 2020 Slant and Damaged People.
Full replay is now on this special page: WATCH REPLAY NOW
April 2, 2020 7am PST/ 7:30 PM IST
April 2nd, 2020 Replay on this page: WATCH REPLAY NOW
April 9th, 2020 7am PST/ 7:30 PM IST
April 9th, 2020 Replay on this page: WATCH REPLAY NOW
April 16th, 2020 7am PST/ 7:30 PM IST
April 16th, 2020 Replay on this page: WATCH REPLAY NOW
April 23rd, 2020 7am PST/ 7:30 PM IST
April 23rd, 2020 Replay on this page: WATCH REPLAY NOW
April 30th, 2020 7am PST/ 7:30 PM IST

April 30th, 2020

Replay on this page:

May 7th, 2020 7am PST/ 7:30 PM IST

May 7th, 2020

Replay on this page:

June, 2020

June 2020 Suicide and Mental Illness

Replay on this page:

July 2020

July 2020 Criminal Tendencies and Serial Killers

Replay on this page:

August 2020

August 20th, 2020

September 2020

September 17th 2020 – How to Pass Your Written Test with Flying colors

October 2020

October 2020 -Hot Seats and Deep Dive into one person. Rigg K.

November 2020

November 19th 2020 – Do You write like a self-made millionaire

December 2020

December. 2020 – Relationships in Handwriting

Watch the Replay Now

Watch the replay now for December 2020

January 2021

January Replay – Slants and Ramon