Your 90 minute Mp3 download is here.  Everything you ever wanted to know about sex and handwriting.
Bart Baggett and select members discussed the secrets to long term relationships, sociology, men
and women's sexual preferences, and of course what insight we can and cannot gain from
a sample of handwriting.
We recommend downloading both the 20+ page PDF file (print it out) and refer to this
handout as you listen to the 2 hour class. And, share this audio file with your single friends
or anyone who is having relationship challenges.
This mp3 file is just one of TEN which now comes as a bonus when you enroll into the
DVD 301 Certification Level Course.  Check out all 22 hours of mp3 bonus
classes on disc 17 of the Certification Level Tele-cass. Now shipping!
  : 
------------ Special Newsletter Reader Offer ------------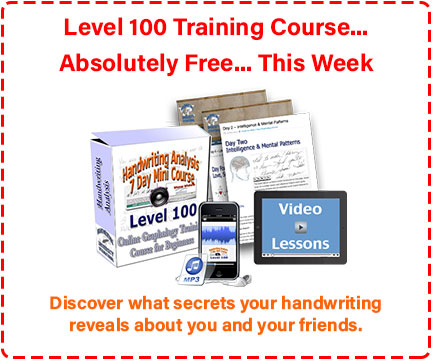 Visit the discount page now.

Download the Sex, Love, and Relationship Recording…

---
Handwriting Analysis Secrets of Love, Sex, and Relationships

Brief Description:
---