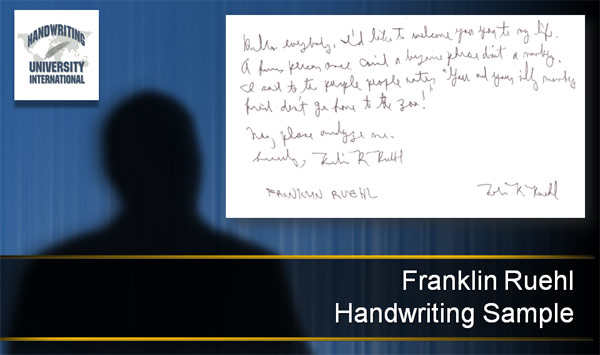 The new "Handwriting Analysis Interviews" have arrived.  As part of the in-depth learning techniques taught by Handwriting University, today's handwriting sample was one of the "audience choice" favorite videos at the 2010 Annual Handwriting Analysis Conference, which wrapped up a few weeks ago.   Today, answer the following questions (in your own handwriting) and do a full analysis of the individual here, Franklin.   In 24 hours, you will be rewarded with audience predictions and an in-depth 18 minute interview with Franklin by Bart Baggett (in a Hollywood studio).
But first, you must analyze the handwriting and do your best to answer the questions based on your skill level of handwriting analysis.  If you own the Level 101 and 301 courses from Handwriting University, you will be able to get most of these questions correct… but some you might be forced to make an educated guess… because the questions are odd.
Below is his known handwriting samples. Click on the image to see the full size higher resolution sample.
Scroll down to answer the questions and come back tomorrow to view the interview and audience comments.
Franklin Ruehl – Questions for the  Handwriting Analysis student
1.  On a scale of 1 to 10, describe his self-esteem and how this affect his career?
2.  Do you feel he is intelligent. If so, how intelligent?
3.  Would he be inclined to believe in UFOs and conspiracy theories?
4.  What was his biggest defense mechanisms and how would it affect his professional career?
5.  Would you describe him as arrogant, open minded, stubborn, or full of self-deceit?  If so why?
6.   Is he a mad genius or crazy?
7.   Is he a linear thinker, cumulative, or a bit chaotic?
8.  Describe his relationship with women and how functional of a husband would he be?
9.  Was he a nerdy kid? Was he a shy kid?  Is he a nerdy adult?
10.  How his level of integrity and personal honesty?
11.  Does he have determination and other success traits?
---
Isn't it time your signature represents who you really are?
Now, all you ever wanted to know about creating a perfect autograph is right here…you can not only change your signature, but change your life in the process.

If you have ever wondered what your signature is telling the world… now is your chance to discover what everyone else already knows.
---