By Vishwas Heathcliff

"Why do you keep so much distance from people around you?" I asked the 22-year-old engineer who had come to meet me recently for an elaborate session of handwriting analysis.
Sitting across the table, the girl, whom I will call Sheryl, did not say a word. She just shrugged and gave a nervous smile.
We had discussed her personality in brief and now we were touching upon a very sensitive part of her life. I looked at her handwriting sample more closely and continued: "You hardly allow people to get close to you. As a result, there may be just a person or two in your life who have access to you, who you are, and what you really feel."
She smiled again, but it was clear she did not want to say anything. I knew I had to make her talk. So, I also took a pause. After the silence became a little uncomfortable, Sheryl said: "Shall I tell you something?" There was a pause again. "I feel very lonely. Hard as I may try, but I find it difficult to let intimacy grow between me and someone I like. Because of that, I am sailing through life all by myself."
Now, let's look at her handwriting to know how I found out that she kept people at bay and had therefore become lonely in life. Notice the space between the words. It's extremely wide and irregular. Ideally, the spacing should be twice the size of the middle zone letters, such as a, o, m, n and s. In Sheryl's case, it was much more than that, which indicates the distance she keeps between herself and others. However, most of her letters are connected, which reflects her need for people in her life. In short, she is torn between what she does and what she needs. (See her handwriting below)
I drew a few lines on the sample and said: "There was something that happened to you when you were about 15-16 years of age. I see a clear indication that the seed of distrust inside you was sown around that time. Your handwriting says that the issues you faced around that time of your life are responsible for your lack of faith, which has turned you into a person who feels it's safe to be with yourself, and keeps others at bay. However, the handwriting also says that your internal need is to stay close to people. You need them, Sheryl. This paradox is pulling you in two different directions. And that is your main problem. Tell me what happened to you back then."
"Hmmm… That's a long story. Would you want to listen?"
"Willingly," I said even as I leaned back.
------------ Special Newsletter Reader Offer ------------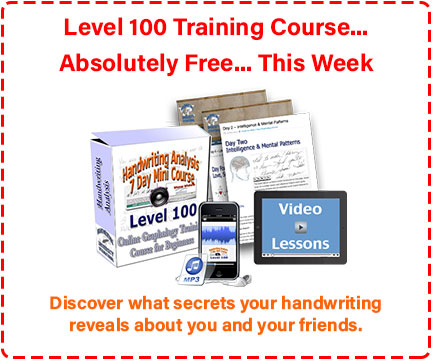 Visit the discount page now.

She went on: "As I look back now, the entire episode appears silly and insignificant. But it was not so at that time. I was just 16 years old. As a teenager, it did affect me. I had just taken admission to a college and had made some new friends. I grew a liking for a guy in the college. It was like a crush and I told one of my new friends. Soon, the guy also came to know that I liked him. I don't know how he got to know, but he did.
"Surprisingly, after becoming aware of my feelings for him, he started behaving in an odd manner. He would often stare at us, and pass comments. Although it was very irritating, we decided not to react. It went on for a few months. First year passed and then second came. I continued to like him and my friends knew about it. They continued to tease me. The matter never left my heart and I locked my feelings deep inside me. But the guy's behaviour made no sense to me.
"Later, it turned out that he actually liked my friend. I could never come to terms with the fact that he could grow feelings for my friend despite knowing that I was fond of him. After a few weeks, my friend also admitted that she was interested in him. I was shocked and shattered. I felt betrayed. She was my friend and was romantically involved with the guy I liked. I don't know whether my reaction was right or wrong, but that incident sent me inside a strong shell…." (Sheryl told me many other things but I won't mention them here.)
Her narrative had clearly established what the strokes in her handwriting were revealing. The analysis session went on for about two hours, during which a number of things about her were discussed. But we revolved mostly around this aspect of her life, which was slowly nibbling at her happiness. Her writing showed that at a subconscious level, she had begun behaving in a way, which ensured that people did not get close to her.
You can see that while analysing her handwriting I drew many other lines to arrive at a conclusion about her personality. But those facts were only for her ears. I am not revealing them here.
In order to her deal with her problem, I gave her a few handwriting exercises including a change in her signature. I recommended a change in her signature because its size was small. A small signature, I have said before, indicates that the writer is introvert in public. The signature was compounding her problem because it did not let her go beyond her mistrust, and hardly allowed her to approach others with confidence.
After the analysis was over, she left for Pune. A couple of hours later, a text message from her landed in my inbox: "You know what… I broke down in the bus… I promise to do my exercises properly and get out of this mess…."