Disappointment, we know, is the feeling of dissatisfaction that follows the failure of expectations to manifest. We all experience disappointment: troubled marriage, poor job evaluation, death of loved ones, health issues, social and romantic snubs, husband's or wife's coldness in bed. I believe some reasons do merit our ooh, aah, ouch. But the raison d'être of some disappointments is really silly. You don't have to look too far. Take Lundroo, for example. Recently, Lundroo was extremely disappointed with a period movie. You know why? Because he went to the theatre expecting a lot of bloodshed in the film. Nobody ever told him that period movies need not necessarily have bloodshed.
The point I'm trying to make is that we don't really need to have a "valid" reason to feel disappointed. Sometimes most of us behave like Lundroo. Depending on what our expectations are, just about anything can let us down. When we fail to fulfil our wishes and find ourselves staring at the buttock of our goals, disappointment sinks in, perhaps as smoothly and slickly as a pin would into our derrière if we happen to sit on it — wittingly or unwittingly.
Some people pluck the pin out, shrug off the bad experience, forget the hurt and move on to meet new challenges and try their luck afresh. But many people just don't know how to pull it out, for they lack the strength and determination for it. They don't talk about their pain and choose to remain quiet, thinking that their silence would ultimately melt into serenity and peace. But it does not happen. The result: very soon, the piece of metal becomes carcinogenic and it begins to eat them up, slowly but steadily. Consequently, a simple disappointment turns into depression, which devours your appetite for almost all kinds of pleasure.
Many people ask me if it is possible to find out through handwriting analysis whether is suffering from depression or not. The answer is a resounding yes. Presence of depression is immediately detected from certain factors in a handwriting sample. The first one is the overall direction of the baseline and the frequent rise and fall of words. Depression is usually accompanied by confusion and stress, shown by several strokes including variable size and shape of letters.
Before I tell you how to find depression in handwriting, permit me to tell you a small story. When I was learning handwriting analysis in Calcutta, I used to bank heavily on my friends and office colleagues whom I used to badger into giving me their handwriting samples for practice. And many did cooperate.
However, there was one friend who promised to give me her handwriting sample, but she never delivered. Interestingly, she did not even say she was not interested in getting her handwriting analysed. She just kept delaying, which was making me furious. In absence of a clear NO or a straight answer, my determination becomes like Samson (Radhas and Anuradhas in my life know that).
So at last, my determination and persistence assassinated her procrastination. One evening, she handed over to me one and a half pages of her handwriting sample on unlined paper. The moment I looked at it I discovered that the person behind the smiling face was like a frightened child with a traumatic childhood who believed nothing will work out for her. She felt cheated in her relationship because she had slept with her boyfriend who was now shamelessly exhibiting post-sex symptoms. Stalked by a feeling of sexual guilt coupled with the darkness that "engulfed" her future, she had become enormously depressed and was also contemplating suicide. Worse, she did not look beyond the relationship and refused to look at other options.
"What is this? You never told me anything. Relax, things will be alright…. Don't worry," I reassured her, trying to be as supportive as possible. I also gave her some graphotherapy exercises. She said she would practise them.
I left Calcutta soon after that. Six months later, I got to know she had gathered the courage to dump the scoundrel and was getting married to another person. I am not sure whether she completed the exercise or not. I am not much interested in knowing that. She is doing well and that is enough.
------------ Special Newsletter Reader Offer ------------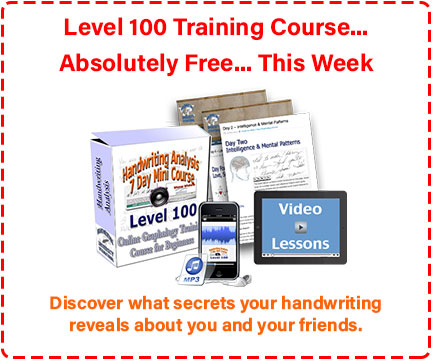 Visit the discount page now.

I can't show you her handwriting, but I will surely tell you how I saw at once that she was depressed. The baseline (the imaginary straight line on which alphabets rest) of her handwriting was consistently going downhill. (See an imitation of her writing in picture A). The other factor which complicated matters for her was the way she crossed her t-bars: they were really low on the stem (see picture B). People with low t-bars in their handwriting are shaken up by even small problems in life and tend to indulge in self-blame. They are often unable to leave the failures behind and believe that something wrong has happened to them because they "deserve" it. They keep on irrigating the land on which depression grows and thinking about suicide is very common for the depressed. If you feel this way, talk to somebody about it. If you think somebody else might be thinking this way, ask them about it. You might save a life — your own or someone else's.

On the other hand, a person with high t-bars has a greater efficiency to fight and
struggle to survive. Such a person possesses the strength to unload the baggage of the past. Likewise, if downhill baseline is indicative of depression and unhappiness, an uphill slant reflects utter optimism (see picture C). Such writers always believe that things will for sure be better in future. And they are more successful too because they are always positive in their approach.
MEET A VITRIOLIC VIKRAM
In this post, I am analysing the handwriting sample of Write Choice visitor Vikram Shah. Mr Shah, the first thing I notice about your handwriting is your irritable temperament. You are sensitive about your ideas and your appearance. If anyone challenges your viewpoint on any matter, you begin to argue very hard to prove your point. You become sarcastic, your comments become scathing and the atmosphere gets tense. Because for you, losing that argument means losing your identity. Yes, it's right. You derive your sense of identity from your ideals, thoughts and philosophy. Also, whenever you feel that someone is making fun of you, you snap back. Sometimes your replies are so harsh that you end up spoiling relationships. You don't realise that more often than not your behaviour acts contrary to the way you should be to fulfil your needs. You look for people who genuinely like you and who will not make even one negative comment about you. The moment he does, you feel he is from the "enemy camp". Dude, you imagine a lot about what people say about you. In fact, when you see two colleagues talking in a corner of the office, you safely assume that they are talking about you, your manner, your dress, your body etc. And from here begins all the problems because you trust your hunch more than anything else.
Also, you can't take no for an answer. The fear of no stops you from taking many steps in life. You are an extremely moody person too.
I see in your writing that you are not unhappy with your current profession: you are TERRIBLY unhappy with it. You don't think you are in the right job. You plan well, but when it comes to executing the plans, you find yourself at a loss.
Mr Shah, another interesting thing your handwriting reveals that though you argue really hard to prove your point and are sarcastic of others, the truth is that you do not like yourself for many things.
You have difficulty trusting people and you have a very limited friend circle. At financial, physical and sexual level, you are facing some serious issues. In your relationships too, you are stressed.
From your handwriting, I see a great deal of mother influence on your life. You miss your dad, too. Maybe because he is emotionally or physically absent from your life.
POP A PEN KILLER
Mr Shah, please write "I will get going and have my way" for at least 30 days. The things that you need to keep in mind is: your y's and g's should be similar to what you see in CORRECTION. Besides, your capital I should be printed. And keep it slightly bigger than your usual size. Also, increase the size of your signature and bring your first name ahead of your second name. Do not abbreviate your first name in the signature.
I hope you enjoyed reading it. Please post your comments in the space below. Do tell me if there is anything specific you want me to discuss in this space.
------------ Special Newsletter Reader Offer ------------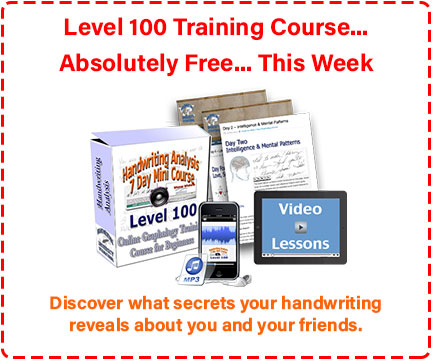 Visit the discount page now.