Larry King made it crystal clear who he wanted to share in his vast fortune after he had passed on from this world — and he also made it clear who he did NOT want to have any control. The Blast obtained the handwritten will of Larry King, which is now being made public after the legendary talk show host's death last month. According to the document, which Larry filed just two months after filing to divorce his 7th wife, Shawn King, Larry wanted his millions of dollars to be shared among his children.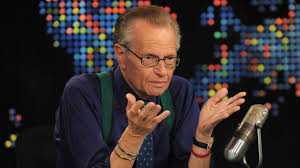 "This is my Last Will & Testament. It should replace all previous writings In the event of my death, any day after the above date I want 100% of my funds to be divided equally among my children Andy, Chaia, Lary Jr Chance & Cannon," the message from Larry King reads.
The handwritten will of Larry King was signed just before the iconic host's 87th birthday, and although it is a bit hard to read … he makes it very simple to grasp his last wishes. His kids get his stuff and his 7th wife gets nothing.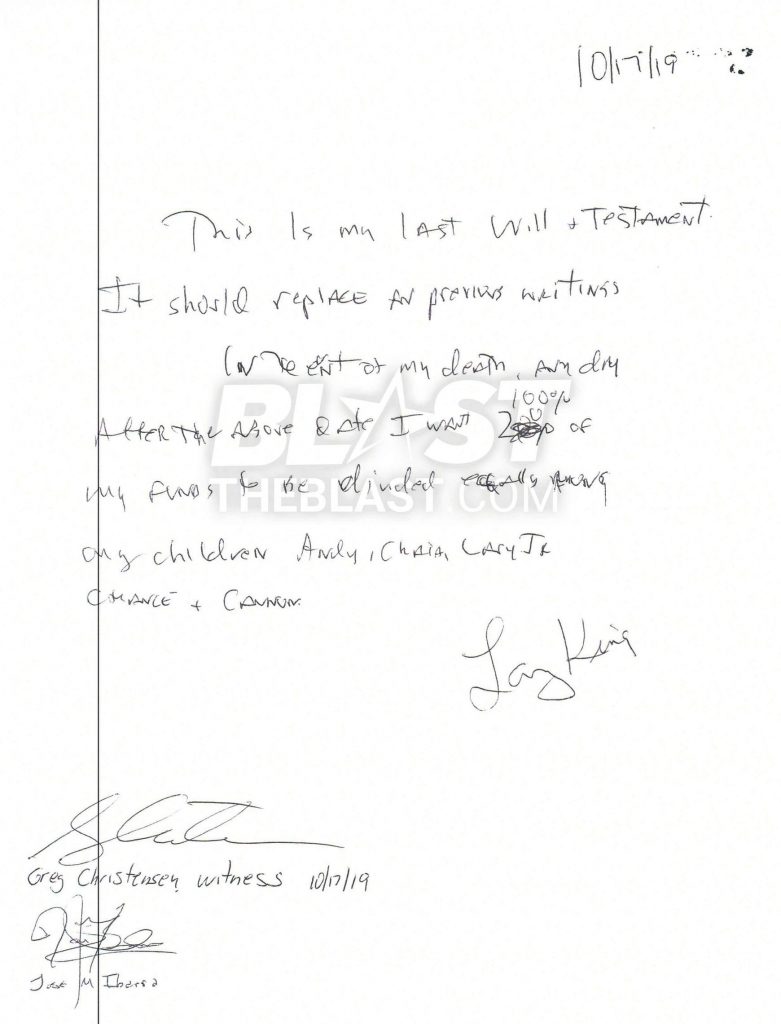 The above image used with permission from Theblast.com
It was signed on October 17, 2019 … about two months after Larry filed for divorce from Shawn.
Along with excluding Shawn from the fortune, Larry King Jr is also stepping in to overrule any possibility of Shawn trying to become an administrator of the estate. In documents filed by LKJ, he states that Larry and Shawn were living separately and going through a divorce at the time of his death.
Larry sadly lost 2 of his adult kids a month apart in 2020. His son, Andy, died of a heart attack in July, and his daughter, Chaia, died in August a short time after being diagnosed with lung cancer.
Shawn King Reveals Husband Larry King's Final Words to Her, Says COVID-19 Was Not Cause of Death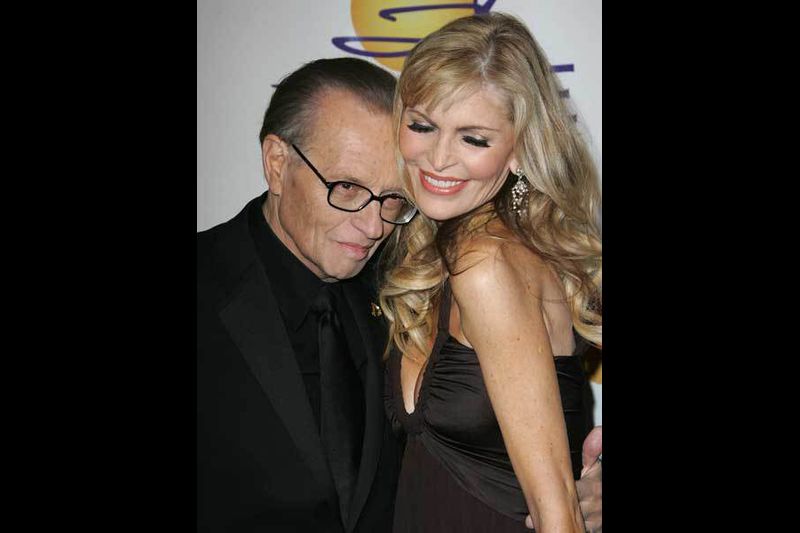 So, Larry's last will and testament doesn't reflect the fact that 2 of his intended recipients have passed away. One of his surviving sons, Larry Jr., has filed docs asking to be appointed administrator of the estate, noting that his father was in the middle of divorce proceedings at the time of his death.
Shawn King shared a special moment with her late husband, Larry King, before his death on Saturday at 87 years old. Shawn spoke to ET this week, and she revealed their final exchange.
Shawn said her final words to Larry were "I love you," and noted that the television icon kept his family on his mind until his last moments. Shawn shared two sons with Larry — 21-year-old Chance and 20-year-old Cannon — and he's also survived by his eldest son, 59-year-old Larry King, Jr., from his marriage to Annette Kaye.
"We were able to do FaceTime in the hospital and it was hard for him to talk, but the one message that he wanted to make sure I heard was, 'I love you, take care of the boys,'" she says.
As for how much is at stake here … the documents estimate Larry's estate to be worth around $2 million, but there are likely separate assets held in separate trusts.
"It was an infection, it was sepsis," she says. "Well, he was finally ready to go, I will tell you that. You know, he never wanted to go but his sweet little body was just, it had just been hit so many times with so many things and once we heard the word COVID, all of our hearts just sunk. But he beat it, you know, he beat it, but it did take its toll and then the unrelated infection finally is what took him, but boy, he was not gonna go down easily."
Shawn talked about the difficulty of watching Larry struggle with health complications in his later years.
"His mind wasn't right, and his body was going, and so that was hard to witness because Larry as we know him is the guy that goes, 'Come on, let's go, you're late, get out of here,'" she recalls. "It's always, 'You're late."'
Here is known handwriting, before he became ill.