This video explains is a clip from our 501 Mastery Course where
advanced trait stacking is explained.  After you have memorized the
over 100 Primary Traits, now you can learn the Advanced Primary
Trait and can learn to combine one trait with another.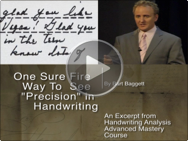 We realize how complicated this is, but this new video seminar simplifies
it in a way you can relate and use the information right away.
In this 3 minute video, Bart talks about the primary trait of Attention to Detail (i-dot close to the stem) and the Advanced Primary Trait of Intolerance (see video).
Precision =  Intorelance + Attention to Details
Intolerance + Domineering, bonus traits that discussed  rhythm, perfectionist and organizational.
If you want to enroll into the MASTERY COURSE, you can now view the videos and even listen to all the audio files of the videos on your ipod or mp3 player.  You can learn while you drive or jog.
http://www.handwritinguniversity.com/products/mastery/