What happens when the handwritten wills of a famous painter gives $10 million dollars to his girlfriend?  A big news story and bigger lawsuit. Read below the recent article in the Bay area's top newspaper about the legal battle over the handwriting.
Do you recognize this style of painting?  If you didn't know Thomas Kinkade is the best selling artist of the past 20 years. His estate is reportedly worth over $100 million and paintings doubled in price with news of his passing.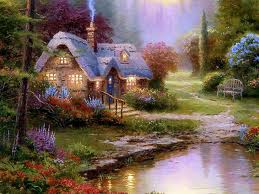 Legal Broadcast Network Video
Article written by Julia Prodis Sulek
The dispute over Thomas Kinkade's multimillion-dollar estate has come down to two barely legible wills that leave his girlfriend his mansion and $10 million, and three burning questions: Did he write them? Was he coerced? And, finally, as the letters state, was he really of "sound mind and body"?
A judge will start considering those issues next month. And if the case goes to trial, whether in open court or private arbitration, expect a parade of experts, drinking buddies and relatives to weigh in.
When a handwriting expert at the request of this newspaper took a look at the two scrawled letters, he said whoever wrote them was clearly impaired.
"I thought he had Parkinson's or was three sheets to the wind," said Bart Baggett, a Southern California-based handwriting expert who has testified in numerous probate cases, including a case involving a will written under the influence of alcohol.
It's an opinion that Kinkade's live-in girlfriend Amy Pinto-Walsh will have to change in order to walk away from her 18-month affair a wealthy woman with a multimillion-dollar estate.
Her lawyer, Douglas Dal Cielo, is confident that despite appearances, Kinkade was, as he wrote in the letters, "of sound mind and body," and it will be the burden of Kinkade's estranged wife of 30 years and his estate to prove otherwise.
Click the images to see the full size of the handwriting samples
Daniel Casas, a Los Altos lawyer representing the Kinkade estate, said, however, that the holographic wills with their shaky writing "pretty much speak for themselves." He acknowledges that California law allows handwritten wills to be valid, even if they're not notarized, as long as they are authentic, the writer had "capacity" when he wrote them, and was not "unduly influenced." Still, Casas said he is confident the pair of wills won't hold up to scrutiny.
Pinto-Walsh's lawyer, however, says he has a strong case, even if Kinkade was an alcoholic.
"California case law is very clear," he said. "Alcoholics have mental capacity and the fact that they write a document, whether they're under the influence or not, case law is clear that people who have substance abuse problems and issues (also) have capacity."
But what if Kinkade — the so-called "Painter of Light" whose images depict dreamy landscapes and tranquil country cottages — was deathly drunk when he wrote them?
"I think evidence will be favorable on that subject," Dal Cielo said, pointing out that the two letters, one appearing to slightly amend the other, were written one month apart.
The dispute over Kinkade's fortune has garnered national attention, and pitted the blond-haired mother of Kinkade's four daughters who helped build the Kinkade art empire against the buxom brunette who said that though they shared difficult times over their short relationship, they were "soul mates' who planned to marry in Fiji as soon as his divorce was final.
Most importantly, Pinto-Walsh claims, even though the letters aren't formal documents executed in a lawyer's office, these were Kinkade's wishes.
In a statement, however, the Kinkade estate — which includes his wife and Windermere Holding Company that operates the art businesses — said the only valid will is the one executed by Thomas and Nanette Kinkade.
Casas adds that while Kinkade "may have expressed something" to his lawyers about Pinto-Walsh receiving something in the event of his death, "it certainly wasn't anything that rose to the level of these holographs."
The 54-year-old artist was found dead by Pinto-Walsh, 48, in his home on April 6 after a night of heavy drinking and popping Valium. The coroner determined he died of a lethal level of alcohol.
Kinkade's brother, Patrick, said in an interview with this paper shortly after his brother's death that the artist spiraled into alcoholism after the separation from his wife two years earlier. He met Pinto-Walsh six months later, then invited her to move into the estate.
One of the handwritten letters was dated November and said that Kinkade, "being of sound mind and body," bequeathed Pinto-Walsh his estate and $10 million cash "for her security." The second letter, written in December, leaves her the house and specifies that $10 million should be used to establish a public museum at the house of his artwork and that of other famous artists he collected. Friends have said Kinkade owns at least two Norman Rockwell originals.
It will be up to a handwriting expert like Baggett to provide some interpretation of the wills.
In both letters, he said, "the line quality was really, really shaky. The hand-eye coordination was basically nonexistent. Hardly any letter was made in a fluid form. Almost all stopped and started with shakes."
Still, he said, if alcohol was in his system, "you could speculate that there was less alcohol" when he wrote the first letter because the letters seem slightly better controlled.
"It definitely looked like two different states of mind," Baggett said. "But I did think it was the same writer."
– Julia Prodis Sulek (www.insidebayarea.com)