Handwriting University is the world's leader in handwriting analysis training.
You can call our International Headquarters at 1-310-684-3489 or our India customer support and center:
Dave 9am-11am California Time, Brianna 1 pm-7pm California Time.
+91 974 501 1322 for Pooja in India, Standard Time. INDIA (speaks Hindi, too)
You can study online, via books, or in one of our live seminars in countries across the globe. Graduates often go on to earn $100 and hour or more teaching, consulting, coaching, or becoming an expert witness. Most people start with the Handwriting 101 Starter kit , which is available online, in video, audio, and instant downloadable PDF format.
Our main website is the worldwide source for all of our training tools such as videos, books, the Grapho-Deck and home study course which can be shipped to your door. Visit at http://myhandwriting.com/order/catalog.html
Globally, Handwriting University does business in 20 different countries throughout distance learning home study courses and this online-training center. In addition to our USA based office, there are Authorized Mentors and Trainers who can guide you step-by-step through learning the basics, getting certified, and building a business: http://handwritinganalysis.org
Tech Support for all our programs and products. If you are having trouble accessing material you purchased or something on our site is just not working as it should:

Call our USA Tech Support Hotline at: 1-310-684-3489 Ext. 3
Call our Asia Tech Support Hotline at +91 974 501 1322
To submit a Customer Support Ticket via our customer support desk, click here

Login to Your online Program: http://courses.handwritinguniversity.com/
Schedule a time to chat. calendar here.
------------ Special Newsletter Reader Offer ------------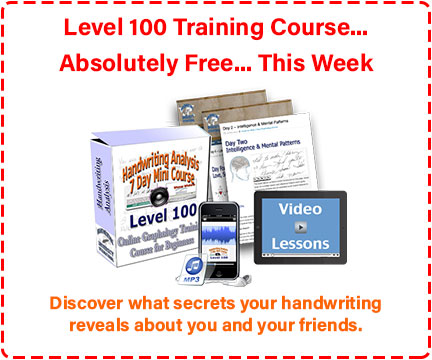 Visit the discount page now.