Is your face in this photo?  Are you going to be a certified handwriting expert?
Some really amazing people walked away from our Annual Handwriting
Analysis as a Certified Handwriting Analysts.  If your face is in this photo,
you should be very proud.  Not everyone passed their tests, so becoming
a Certified through Handwriting University is quite an accomplishment.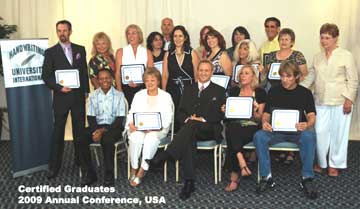 Likewise, I am typing this from our campus in Bangalore India… where
this Sunday, another 150 students are getting their certificate from me
in person!  Handwriting analysis is changing the lives of thousands of kids
and adults all over the world.  You have to see it to believe it.
Back in the USA, people have decided taking their final exam in a conference
type atmosphere with other students is much more fun than strictly a homestudy mail-in format.  Plus, studying with friends and sitting face-to-face with
the teacher is a much more fun than the phone and mail. However, I will still handle
your certification personally via telephone for all certification level home study
course students, who order through our USA based office.
Come to next year's 2010 International Annual Handwriting Analysis Conference,
even if you don't think you will become certified… you will be inspired and build
your confidence analyzing handwriting.
Next year's seminar is going to hold twice the number of participants, so you should plan
ahead.  Visit this 2010 seminar page now and check your schedule.
http://myhandwriting.com/seminars/2010lasvegas <– early bird tickets now on sale.
------------ Special Newsletter Reader Offer ------------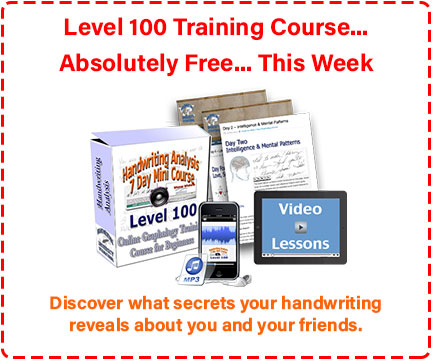 Visit the discount page now.

We already have RSVP tickets from Mexico and India.  Schedule it early.
The sooner you purchase tickets, the more you will save… and you will
be very motivated to start studying and analyzing handwriting everywhere you go.
We will be posting more videos clips and some wonderful student reviews
over the next few months, so RSVP your ticket early.
View some video student reviews online here:
Thanks to my great Staff and Faculty for an amazing event.
BART BAGGETT
President of Handwriting University International
P.S.  Remember that our School of Forensic Document Examination starts in September,
so submit your application, if you have been procrastinating: