It has finally arrived… a new day in the field of handwriting analysis where we are no longer guessing at the accuracy of our analysis or defending our "expert" status based on a theory. It's time to meet the real people, up close and personal, through a groundbreaking new video interview format.
This lesson comes in two parts, separated by one full day… so you have time to fully analyze today's handwriting sample and so you don't cheat (be looking ahead at the video interview).
First, downloaded, print, and analyze the handwriting of today's interviewee… Ms. Sunshine Lee.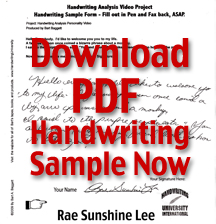 Download Sunshine's PDF file (low res 256 k)
Download Sunshine's handwriting sample PDF file (high res 5MB)
------------ Special Newsletter Reader Offer ------------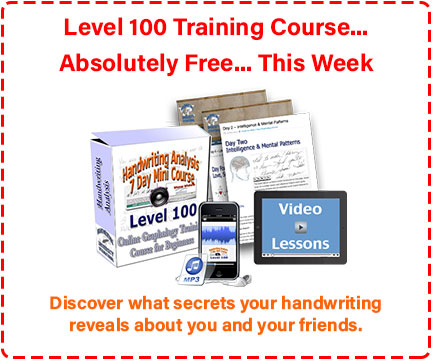 Visit the discount page now.

Now…
Answer the key questions below as you analyze the writing yourself. If you have a bit of patience and approach this the same way we do this in "LIVE EVENTS" worldwide, you will have a more profound learning experience.
1.  Does she have more than one career or     more than one primary interest?
2.  Is she successful?
3.  Is she talkative or secretive?
4.  Does she blame others when things go wrong?
5.  What was her childhood like?
6.  What is her deepest motivation?
7.  What has prevented her from success?
8.  Is she honest or full of self-deceit?
** Please take a moment to input your answers into the "comments" section so other students can learn from your thoughts on today's handwriting sample.  You must login to place comments.