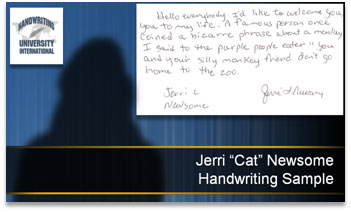 This month's "Handwriting Analysis Interview" has arrived, as part of the in-depth learning techniques taught by the Founder of Handwriting University, Bart Baggett. You need some prior knowledge of the Primary Traits in graphology to really get the full benefit of these interviews — but do the best you can whether you are a beginner or ten-year veteran analyst.
Today's handwriting sample is from Jerri "Cat" Newsome. This is a great handwriting sample with some challenging questions.
First, you must analyze the handwriting and do your best to answer the questions based on your skill level of handwriting analysis. If you own the Level 101, 201, and 301 courses from Handwriting University, you will be able to get most of these questions right. However, there are some about which you might be forced to make an educated guess. Some of the questions are odd, and not all the questions can be answered through handwriting analysis, but hey, why not ask anyway… just for fun! Scroll down and don't watch the Video Reveal until you have worked on the questions all by yourself. (It's like a math test… Don't cheat!)
Below are her known handwriting samples. We asked her to write both cursive and printing, but as you'll see, both samples are actually in print. Click on the images to see the full-size, higher resolution sample in your browser or right-click and select "Save" to download and print. Scroll down to answer the questions — and do not watch the video interview until you have exhausted all your handwriting knowledge in giving a proper personality profile. Then, leave your comments at the bottom of this article so others can agree or disagree! Come back tomorrow and view the two-part video interview hosted by Bart Baggett.
Jerri "Cat" Newsome Print Handwriting Sample 1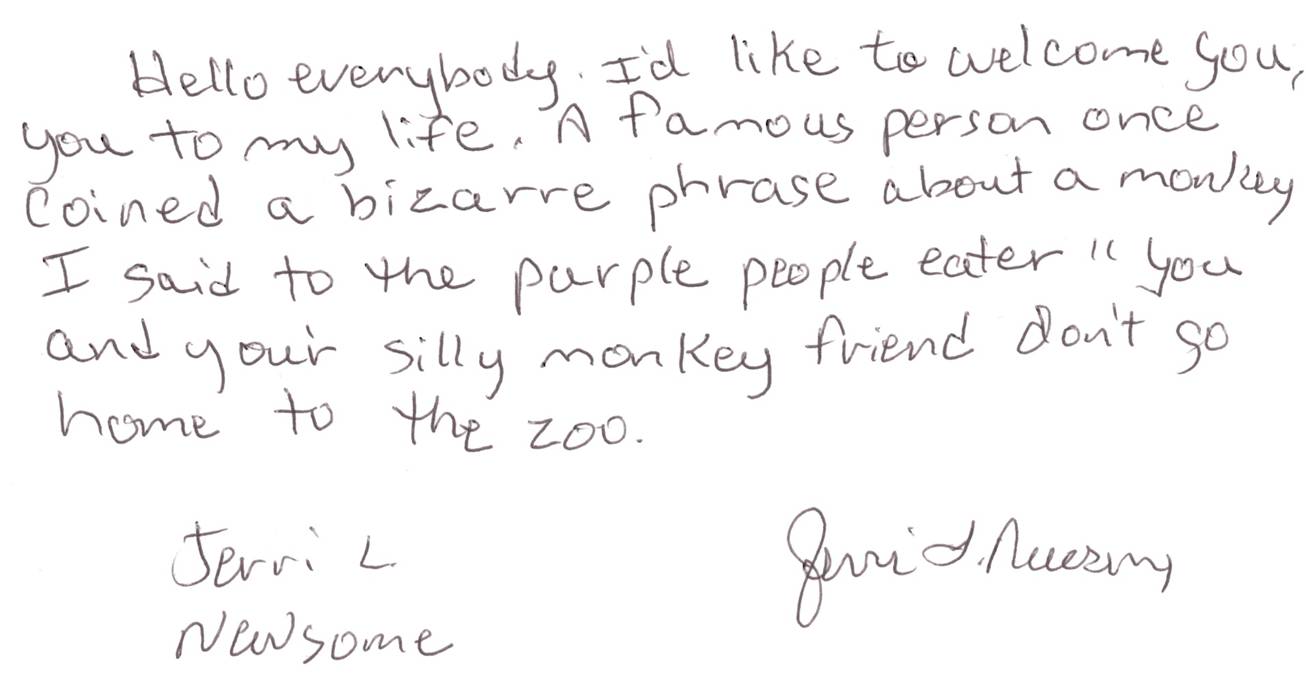 Jerri "Cat" Newsome Print Handwriting Sample 2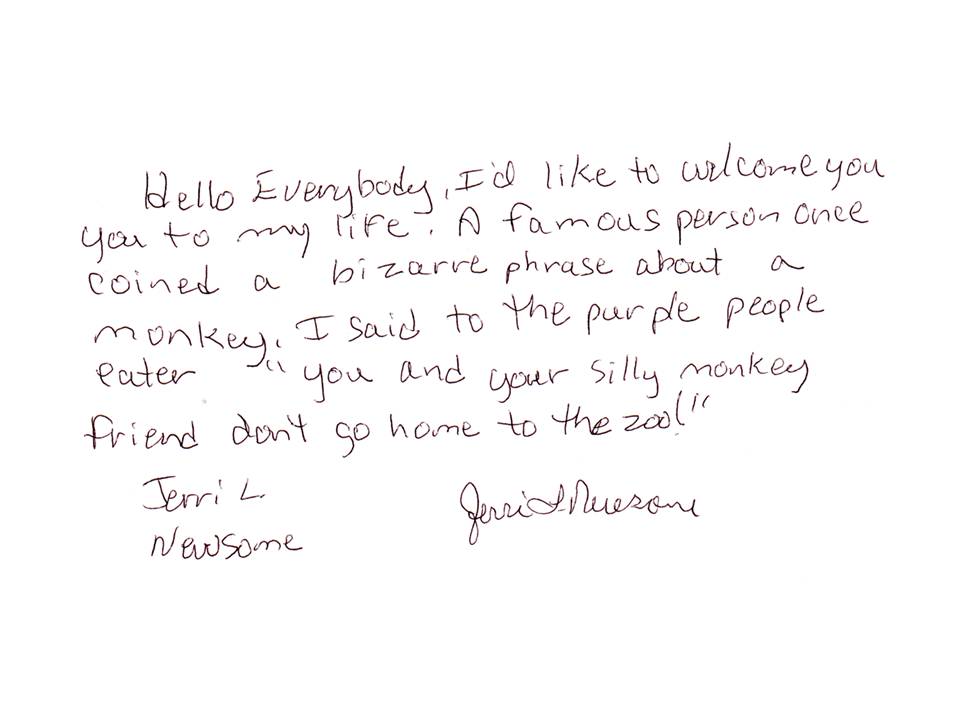 Jerri Newsome – Questions for the Handwriting Analysis Student
1. On a scale of 1 to 10, describe her self-esteem and how this affects her success in life?
2. Do you feel she would be revengeful if her relationship goes south?
3. Is her temper controlled, out-of-control, or non-existent?
4. What are her biggest fears or defenses, and how do they affect her success in life?
5. How would her best friend describe her? (Examples: defiant, kind hearted, generous, defensive, stubborn, cruel, mean-spirited, playful…)
6. What is her level of intelligence? Book smart or street smart?
7. What grapho-therapy suggestions would you suggest Jerri make in order to improve her life?
8. Describe her relationship with men and how this affects her ability to choose a competent partner?
9. Is her mood/emotional temperament even keeled, moody, or unpredictable?
10. Would she describe herself as bitchy or kind-hearted or neither?
11. Is she paranoid or distrusting of men?
Are you ready to meet Jeri?  Click here to see the video interview and get the answers directly from her.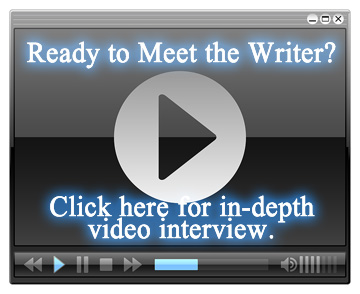 ---
Handwriting University's Mastery Level Handwriting Analysis Course MP3s/DVDs

Brief Description:

This course blends 50+ advanced traits, exciting guest speakers, and even the newer science of NLP (communication, listening, and rapport skills) into a 24 video event that will change your life and give you the ability to change others' lives through their handwriting. This is our advanced course consisting of the Seminar Manual and many different conferences in both DVD and CD format. A great price — especially considering the convenience of staying home to watch and listen to the very same conference that a sold-out crowd paid to attend and travel to!



---